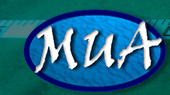 Serapis Project
Crew Impressions

30 November 2008
Kelly Bumpass
The recording of the site went very well, especially under the rather challenging logistical and diving conditions. Water visibility was almost always 20-30 meters, warm, and other than the occasional lionfish and hundreds of sea urchins on the wreck, the environment was almost constantly benign. A number of large cannon, hundreds of brick and lead bars apparently acted as ballast aboard the vessel. A large table in one of the bungalows made a great drafting table and the sketches divers made on Mylar slates were drawn onto the site map daily. This allowed for constant control over the measurements and produced running check lists regarding any questions and possible overlooked points. The crew was tasked daily with certain responsibilities and all tasks were completed, most as scheduled. This was really a terrific site to work, the crew was hardworking and extremely competent. The recording was completed with little difficulty and we look forward to coming back and examining the site further. What was found and recorded offered more archaeological evidence that we may have found the wreck we were looking for and we are certainly planning a return. Wood samples and hopefully some wooden structural timbers will be found that will tell us more about the site.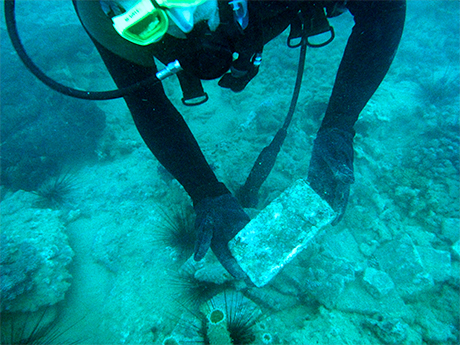 Whole Brick found throughout the site.
Jason Burns
What did we accomplish? We identified a likely candidate for the ship we are looking for, the Serapis. The clues, including the cannon, anchor, copper hull sheathing, and artifacts point to the direction of the ship. As archaeologists, we can't pin a name on a site until we have positive proof. We will keep conducting archival research, field work and remote sensing to hopefully one day identify this site and others here in Madagascar. This is only the beginning of the story, stay tuned for further research.
Norine Carroll
To say it is an honor to be in Isle Ste. Marie, Madagascar trying to locate the Serapis is an understatement. To have been a part of both the 2004 and the 2008 Serapis Project archaeological team is literally, a dream. This season has proven to more successful than we imagined considering the many factors that come into play when conducting an underwater archaeological project in deep water in a remote region of the world.
It seems as if it were only a day ago that we were trying to figure out how we would even be able to accomplish an overall site plan, and I sit with the completed site plan before me now. This is an impressive shipwreck site that has the great potential to be that of the Serapis, but there is still much work to be done! Our limited bottom time has been frustrating, as this is an multifaceted shipwreck site, and we have not barely even scratched the surface.
Our accomplishments this season would not have been possible without the hard work and individual strengths of the crew members, the international team of residents who reside in Isle. Ste Marie, and of course the wonderful Malagasy people. It is not hard to understand why this ship and many others for hundreds of years chose this beautiful harbor to set anchor to rest. This project is technically about locating and recording the Serapis, but it is really about something much more.
Please feel free to contact us at mua@keimaps.com with any comments, questions, or suggestions during the weeks to come.
Return to Project Journal home page.