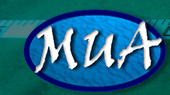 Crew Impressions
30 November 2008

By Michael Krivor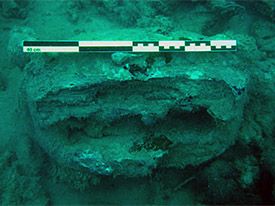 One of the many rigging elements scattered throughout the site.
We have now concluded our site investigations for the 2008 season. Yesterday we were able to finish some last minute diagnostic measurements as well as the photomosaic. The photomosaic, once produced back in the United States, will give us a complete picture of the exposed wreck site. We can use this to help fill in the site plan and will help us better understand the dynamics of the site.
We were able to clear two small areas of the lower hull along the baseline to determine the condition of the lower hull timbers. While there is very little, if any, of the vessel intact above the turn of the bilge, it is likely there is a fair amount of lower hull timbers remaining under the ballast, brick, and miscellaneous artifacts which cover the wreck. Opening up the two areas involved moving small hand-size ballast stones, shell, and a light-clay sediment.
The good news is that once the sediment cleared a number of wood timbers were exposed. However, the wood is badly deteriorated, likely from being exposed on the sea floor for years before being covered in sediment. The deteriorated wood may be from the vessel being burned or from marine organisms, such as Teredo worms, that eat wood...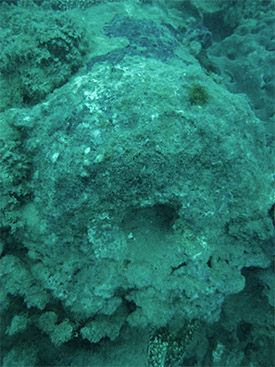 Muzzle of 1 of 10 cannon found on the site.
While there are still many questions about the wreck site that will have to be answered in the future we have been able to make some general observations. The first is that we have a wreck site approximately 140 feet in length with a beam of approximately 40 feet. The hull is sheathed in copper and there is evidence of intact wood scantling beneath the substantial ballast and artifacts which cover the wreck. There are 10 exposed cannon and one large bower anchor visible on site. While we have not determined which end of the wreck is the bow and which is the stern the vessel appears to be canted over on its side. This is evidenced by the large run of copper sheathing on the north side of the wreck which is exposed well above the sea floor. The south side of the wreck is almost entirely covered in sediment.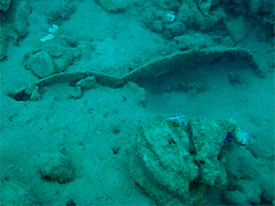 The hull remains include long runs of copper sheathing.
There is a large amount of artifacts visible on site if you look close enough. This includes ceramic shards, glass ware, and miscellaneous iron concretions. Overall the site offers a valuable glimpse into the 18th century. While we are hesitant to positively identify the wreck as the Serapis until further studies are conducted we are off to a great start.
Please feel free to contact us at mua@keimaps.com with any comments, questions, or suggestions during the weeks to come.
Return to Project Journal home page.