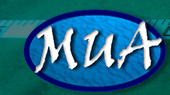 Artifacts and the Museum on Ile. Ste. Marie
26 December 2008

By Norine Carroll
Large objects associated with this wreck and left remaining in situ were numerous and include: iron anchors, a large lead box, ten cannon, and numerous lead ingots and bricks. The wreck is also littered with concreted iron, but no other diagnostic artifacts were located this field season due to the extensive coral growth and silt that covers the site. No excavation took place.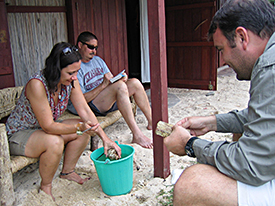 Norine Carroll, Kelly Bumpass, and Jason Burns cleaning artifacts.
Sixteen artifacts were located associated with this shipwreck, fifteen of these were located by responsible sport divers Massimo Felici and Henri Bellon de Chassy. Eleven of the artifacts were raised and air dried in early 2008 when the wreck was located post Cyclone Ivan. Two dark green blown glass bottle bases were located but left underwater, and were raised to be drawn, photographed,and then re-interred during this 2008 field season. Provenances of these fifteen artifacts are unknown, with the exception of one probable cow bone that was located at the end of this field season.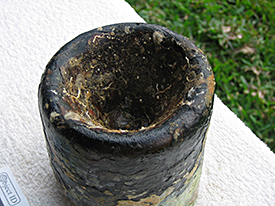 Green glass bottle base.
Metal artifacts include a copper sheeting fragment, a lead sheeting fragment, a copper tack, and three copper artifacts thought to be some type of couplings. Two of these possible copper couplings were noted by sport diver Massimo as being associated with wood.
Glass objects include two historic dark green blown glass bottles. Extensive drawings of these bottles was done before they were re-interred because they can be very diagnostic when compared with known bottle glass dates.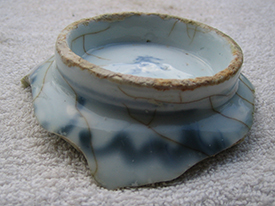 Blue and White Chinese "Export" Porcelain.
Ceramics include: one blue and white chinese export porcelain bowl base that includes a makers mark and mark on the interior of the bowl, a very coarse earthenware mug with a whitish/gray slip, a small roughly crafted unglazed vessel though to possibly be some sort of small decanter, an earthenware whitish/gray slipped base fragment, and two ceramic brick fragments.
Two bones, a possible cow, and a possible pig bone were located.
The site is littered with modern debris ranging from yogurt containers to Three Horse Beer bottles, to old fishing nets. It has been and probably is still being used as a fishing spot, so modern debris is expected. This is a dynamic port that has been used extensively for at least the last 400-500 years, with historically Arab, French, British, Italian, Dutch, and Pirate vessels frequenting it's protected harbor. This will add an additional challenge to dating materials from this site, as frequent cyclones in the area can shift the ocean bottom extensively.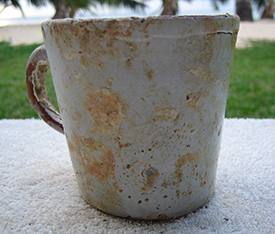 Course earthenware cup.
All the above objects have been photographed and are in the process of being drawn. Ceramic objects, although air dried, were submerged into fresh water, with water changed occurring two times a day. Mechanical cleaning to remove concretion was done by Jason Burns and myself using a scalpel and dental pick. There is some more mechanical cleaning to be completed before the end of the project. With the exception of one or two possible approved samples, no object will be removed from the country, as they are considered the property of the Malagasy government, and a part of the cultural history of Madagascar and the Malagasy people.
We have been working in conjunction with the University of Antananarivo and it's Museum of Art and Civilization located in Antananarivo with the hopes that a small museum on the island of Ile. Ste. Marie will house an exhibit of the artifacts and information regarding the Serapis and Serapis Project. Because the humpback whales migrate north between Ile. Ste. Marie and the main island of Madagascar from June-September, the island does get a fair amount of European tourists. The island also enjoys dive tourism due to the thriving coral reef system surrounding the island. An exhibit on underwater archaeology in the museum on Ile. Ste Marie could potentially help to increase visitors to the museum, and also raise awareness of the rich and diverse history that exists here on Ile Ste. Marie. Myself and Mike Tuttle will be working with Nicole Courrissake of the Museum on Ill Ste. Marie.
Please feel free to contact us at mua@keimaps.com with any comments, questions, or suggestions during the weeks to come.
Return to Project Journal home page.