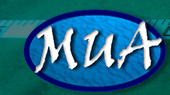 What Do We Do Day To Day?
29 November 2008

By Jason Burns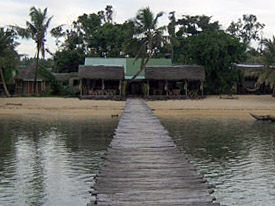 Bungalows de Vohilava, Isle Ste. Marie, Madagascar.
First off, the sun rises at 4:30, so it gets light early and everybody is awake. We are staying at Bungalow Betty down the beach from the main Bungalows de Vohilava. We all amble down the most beautiful palm lined beaches to eat our Petit deJeuner, or breakfast. Usually cafe (coffee) and fruit or toast and eggs and bacon by 7 am. We are about 30 minutes from our boat and the truck that runs us down to the shop also serves the rest of the guests, so sometimes we have to wait. Our plan is always to be at the boat by 9, but, this is an island and "Island Time" takes effect. Once we get to the dive shop, the boat is loaded, our equipment is set up, and our wetsuits and booties are laid out, yes, we are spoiled, but we'll take it.
We take the really long 5 minute boat ride out to our site and tie up to the mooring buoy we established the first week we were here. The huge orange buoy is patrolled by the Malagasy Navy and the site is a protected cultural site under Malagasy law. We were called one day by the Navy so they could let us know that we were being watched, a good feeling for us.
The shipwreck lies in about 65-80 feet of water and we usually hit the 70 foot table on our dive. That restricts us to 40 minutes on the bottom. I don't think that any of us have hit 40 minutes. A working dive, we usually suck the bottom out of the tanks before 30 minutes. We also conduct a 3 minute safety stop, so everybody saves at least 200-300 for the safety stop.
The depth really limits our work on the bottom, but we are all kept on task by Kelly Bumpass. Kelly is drawing our site plan and keeps a running list of things we need to do. Michael Krivor and Michael Tuttle both record the site each day through video and digital stills.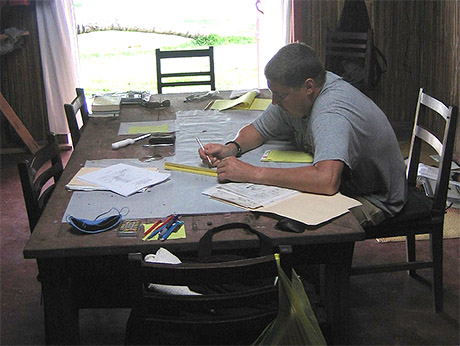 Kelly Bumpass working on the site plan.
Dive teams descend in pairs and record different parts of the site to stay out of each others way (and to keep each other's visibility good!). We have managed to fully record the visible portions of the shipwreck through measured drawings, photo-mosaics and video.
Once all of the dive teams cycle through we head back to shore, then back to the Bungalow. We hit the stores, and the internet cafe, if we need to. Once back at the bungalow, we rinse camera equipment, download images, and transcribe notes from our mylar (underwater paper) and Kelly gets to work updating the overall site plan.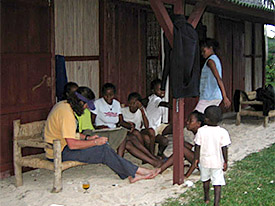 Michael Krivor teaching local students English as they teach him Malagasy. The "Ambassador" held classes every day.
In the evenings, Michael Krivor, our local US ambassador conducts an English lesson for the local Malagasy students. The kids have really taken to learning from us and we have taken to learning Malagasy from them. Our French is really bad and our Malagasy is even worse, but we are all getting better.
Dinner is usually at 7 pm, we again amble down the beach to Vohilava and eat a wonderful French/Malagasy meal, drink many Three Horse Beers and local rum, then we all are asleep by 10 or 10:30. Night owls!
A day in the life of an underwater archaeology team in Madagascar!
Please feel free to contact us at mua@keimaps.com with any comments, questions, or suggestions during the weeks to come.
Return to Project Journal home page.