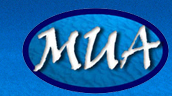 Final Dive

14 September 2011
By Chris Cartellone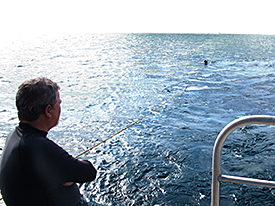 Divemaster watching towboarder off stern of research vessel. (Photograph by Chris Cartellone.)
Before we left Nevis on 19th July, our team had time for one final dive and a bit of towboarding. We went to a location believed to be the resting place of another early 19th-century British warship, HMS Drake. In one dive we documented an anchor, and observed what appears to be encrusted iron, and scraps of copper sheathing. While it is difficult to say more at this time, this area warrants further investigation. After that dive, we towed skin divers behind the research vessel with a rope. They scanned the seafloor for potential artifacts and other shipwrecks.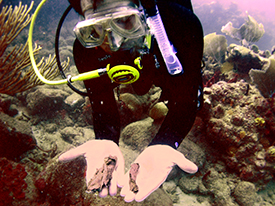 Diver Justin Parkoff holding copper sheathing fragments. (Photograph by Chris Cartellone.)
This winter will serve as a much needed period for studying the data collected from Solebay and historical records for both Solebay and other potential wreck sites. Next year I intend to return to Nevis to continue the search for more of Solebay's remains, and expand a broader survey for other vessels, including Drake. A greater survey may help to illuminate a greater anthropological understanding into the historical role Nevis played in the world.
Naval vessels are not the sole focus of research, but rather a good starting point. Besides their historical importance, they tend to be easier to locate and identify due to the excellent historical records kept by navies, and the greater amounts of iron artifacts including anchors and cannons, when compared to many merchant vessels of a pre-industrial period. However, there remains the potential to locate merchant vessels carrying a variety of cargos including the potential for a slave wreck. For now, Solebay will provide answers to the Battle of Frigate Bay, 18th-century naval armaments, and shipwreck site preservation in the ocean surrounding Nevis.
This season's field work is over, but the research is just beginning. As all archaeologists recognize, the time in the office and library after the field is many times the amount spent in the dirt collecting the data. Beginning this fall 2011, the artifacts recovered from Solebay are undergoing conservation at Texas A&M University's Conservation Research Laboratory, thanks to a sponsorship from Brimstone Hill Society. Included among the over seventy artifacts recovered are believed to be lead musket balls, copper tacks, a possible musket trigger guard, and a large copper chain.
Copper chain. (Photograph by Chris Cartellone.) Click on map to zoom in for a closer look.
The musket balls and trigger guard can support the identity of the site as Solebay. But, the chain seems to be most fascinating when discussed with fellow archaeologists and historians. Why copper? Copper was used below decks to prevent sparking, instead of iron--a much desired characteristic on warships carrying large amounts of explosive gunpowder. Another idea being considered is as part of the frigate's steering system. This may have been desired for its non-ferrous properties, to allow the vessel's compass to function without a false navigation reading, possible with an iron steering system.
The carronades present a very curious set of questions. This season we only located one other gun, another carronade. Yet, compared to the previously known carronade, both are quite different. The most noticeable characteristic is one has trunnions, and the other is smooth with a lower lug assembly for a carriage. Navies are known for their rigid uniformity. Does this represent a resourceful behavior by the captain to augment Solebay's guns and acquire carronades piecemeal from friendly ports during wartime? Or do we have a gun from another wreck? A combination of archival research and expanded survey work may help solve these mysteries.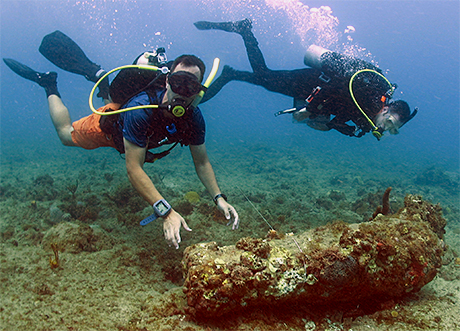 Chris Cartellone & Justin Parkoff observing carronade. (Photograph by Paul Diamond.)
For now, the data will be processed, the records searched, the artifacts conserved, and the report written. I will provide updates to this project journal later this year, after some significant progress has been made processing data and conserving artifacts. Until then, I would like to sincerely thank the sponsors of the project. Archaeology is never possible by one person, but requires a team of individuals and institutions providing financial and material support, as well as labor to succeed. Please visit the Acknowledgements link on the left to view a list of folks that contributed to Project Solebay. No one is either more or less important as this project would not have occurred without all the pieces of the puzzle working together.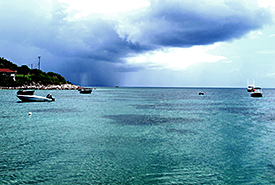 End of field work. (Photograph by Chris Cartellone.)
Finally, if you enjoyed this Project Journal, explore some of the others. I want to extend a special thank you to T. Kurt Knoerl and the MUA team for this wonderful website. He volunteers his free time to build, edit, and maintain this service. Please consider even a small donation to the Museum of Underwater Archaeology to allow this resource for sharing knowledge to continue. Check back for future postings in the next few months on Solebay's progress.
Return to MUA Project Journals home page.