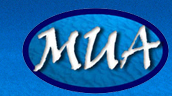 Teamwork

17 July 2011
By Marco Meniketti and the SJSU Team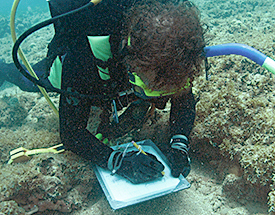 Dr. Marco Meniketti recording artifact. (Photograph by Chris Cartellone.)
The Solebay project has been an outstanding opportunity for San Jose State University to a pilot an underwater archaeological field school by allowing students to collaborate with the team from Texas A&M University. San Jose State is in the California State University system, located in the south bay region of the San Francisco Bay Area. Students from San Jose State are gaining valuable experience in site documentation, recording, artifact illustration and the general practice of archaeological site mapping. In preparation for the project each participant completed American Academy of Underwater Sciences training. We will evaluate our participation and contribution in the semester ahead of us. This would be a good point to introduce the San Jose State University component of the project.
The San Jose State University group is led by myself, Marco Meniketti, an Associate Professor of archaeology at San Jose State. I am a historical and nautical archaeologist focused on Caribbean colonial development and maritime history. I view involvement in this project as a first step toward developing a maritime archaeological program at San Jose State. I am also directing the Bush Hill Plantation Project, a large 18th century sugar plantation on Nevis, even as the Solebay project unfolds. In essence these two projects are linked through the political and economic dynamics of the 18th century. Wars were fought between European colonial powers over economic dominance and at the center of this was the sugar industry. This collaboration feels natural as I have academic ties to Texas A&M, having been a graduate student there in the mid 1980s. One of our divers is John Schlagheck, who recently graduated with a Masters in Applied Anthropology, and is currently serving as Field Supervisor for the Bush Hill Project. Rebecca Spitzer is an undergraduate in archaeology with a gift for illustration, and rounding out the team is Ryan Schlater, a graduate student in Education, who is covering the underwater photography duties. Each of our participants would like to share their experiences and impressions of the Solebay project.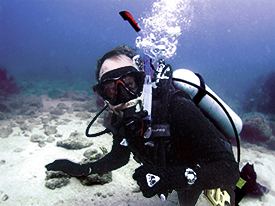 John Schlagheck. (Photograph by Justin Parkoff.)
I am John Schlagheck. As someone new to underwater archaeology, the Solebay project has been a great setting to gain experience and proficiency in underwater skills. There was enough work to be done that SJSU divers made several dives each week and I really felt an increase in my comfort level underwater and my ability to accomplish important tasks.
We also had enough time between dives to reflect on our work and specific assignments and to engage in task planning where needed. This gave us an understanding of the process of underwater archaeology. One example of this is how buddy teams improved their procedures for measuring and drawing artifacts on the seabed over time. At first it was challenging but gradually we became proficient. While this is tough in the best of conditions, we made real improvements in communication and with artifact measurement and drawing.
Raising the copper chain was also an amazing learning experience. Lift bags can be tricky but our team's approach was successful. While two divers controlled the lift bags, a third diver controlled the route to the boat while a fourth diver observed the operation to identify any potentially dangerous or threatening circumstances and conditions. This approach allowed everyone to focus on their task. Our photographer recorded the recovery.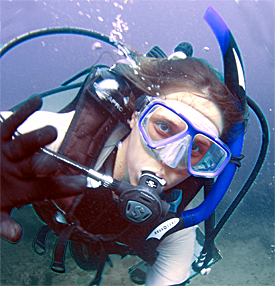 Rebecca Spitzer. (Photograph by Justin Parkoff.)
I am Rebecca Spitzer. My preparation for diving on the Solebay project began over seven months ago when I heard there might be an underwater archaeological project I could participate on if I had certification as a scientific diver. I was a basic diver but was able to get the required training through Moss Landing Marine Laboratory. I have been able to dive multiple times on the wreck. I had several tasks over the weeks. The ones I was most involved with were after artifacts were found. My primary goal was relocating and tagging artifacts and recording them. Finding artifacts was a challenge. Current, visibility and air consumption rates were all factors affecting the searches. Unlike searches on land, a diver can easily be pulled off course by water movement. To stay on course we used a line attached to large immovable objects like ship's ballast, and swam in large circle patterns at increasing intervals. In this way I made large sweeps over the intended search area. A buddy is an important asset in this work as he keeps the line from getting entangled. Much of my energy was spent later on illustrating artifacts in situ, which is challenging in turbulent water.
The experience was amazing for me for many reasons. First, it incorporated two of my favorite activities: archaeology and scuba diving. Secondly, it challenged my skills and let me learn new things. I can't wait to use my new search skills again. It was also the first time I dived in warm water. This was the first warm water diving for most of the California crew. I also got to meet new people who taught me new respect for archaeology.
Our third participant was Ryan Schlater. Ryan used his photographic skills to document artifacts in situ on the seafloor, record recovery operations, and to provide images for future research. Ryan also participated in tagging, search patterns and illustration of artifacts.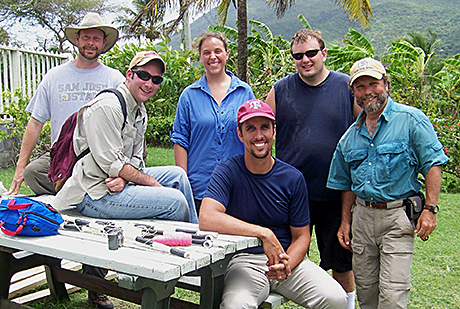 TAMU & SJSU divers left to right: John Schlagheck, Justin Parkoff, Rebecca Spitzer, Ryan Schlater, Dr. Marco Meniketti, and Chris Cartellone in front. (Photograph by Chris Cartellone.)
Overall the collaboration has been rewarding for the students and a great deal was learned. We are grateful to Chris Cartellone for facilitating this unique opportunity, and I am personally thrilled to be able to work with Chris again on Nevis. Please email your questions or comments to cartellone@tamu.edu.
Return to MUA Project Journals home page.