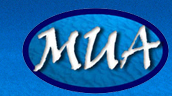 The Battle of Frigate Bay

21 June 2011
By Chris Cartellone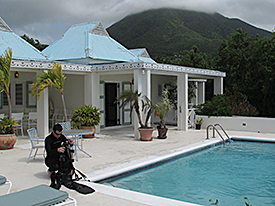 Justin Parkoff testing scuba gear at our field house; Nevis Peak in the background blanketed by clouds. (Photograph by Chris Cartellone.)
By now one might expect to read tales of archaeologists exploring an old sunken shipwreck. Before we get in the water, a lot of logistics are required. I will use this entry to discuss some of the planning and also provide a historical background of what we believe is this specific wreck, HMS Solebay. After all, while we use scuba diving and lots of sophisticated black boxes and gadgets to help study the wreck, these are just a means to an end. Our ultimate mission is to produce a better understanding of maritime history and human behavior in Nevis.
My immediate team consists of myself and Justin Parkoff, another Ph.D. student in the Nautical Archaeology Program at Texas A&M University. We arrived this weekend in Nevis, after flying into St. Kitts and taking a ferry between islands. We spent yesterday getting settled at our project house, renting a vehicle, obtaining local driver's licenses, setting up a local cell phone for communicating with officials, and buying groceries. While this sounds basic, underwater archaeology is not just scuba diving. It requires support and coordination with many local folks that are helping the project run smoothly. This was all prepared months before with many phone calls and emails.
Today we are meeting with Nevis' only dive shop owner, Ellis Chaderton, of Scuba Safaris. He will be providing the scuba tanks, dive boat, and crew. We are also meeting with James Hewlett, a marine biology professor from Finger Lakes Community College in New York. He is here with students for two weeks studying coral reefs, and will be assisting significantly in our project as well.
Our goals for the coming week are to relocate the wreck, establish a temporary buoy to mark it for the duration of the project, and begin identifying artifacts. Before any of this happens, we will spend tomorrow morning at customs, collecting extra scuba tanks, general recording supplies, a small generator, and a magnetometer. I had these items shipped from Miami, Florida, about three weeks ago. Assisting us in this process will be Spencer Hanley, General Manager of Nevis Air & Sea Ports Authority (NASPA). Assuming all goes well, the project pace should begin to accelerate by next weekend. In the meantime, enjoy reading a bit of history.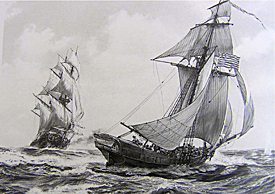 Solebay in Pursuit of Providence. Large View. (Image by Roy Cross, 2005.)
Significance of HMS Solebay
Solebay represents a workhorse of the Royal Navy as a 28-gun, sixth-rate frigate that sailed from 1763 to 1782. British naval architecture improved greatly during the second half of the 18th century by studying ship lines from captured French warships. In 1760, Thomas Slade drafted the lines for six vessels, including Solebay, as the Mermaid Class, scaled-down from HMS Aurora (ex-French prize L'Abenakise captured in 1757). While hull designs advanced during this period, the British warships underwent other technological changes in rigging, coppering hulls, and new guns. Solebay carried as many as four carronades--an important cannon type used until the mid-19th century. One of these was observed in an initial reconnaissance dive last summer amongst several long guns. This potentially represents one of the earliest carronades in use by the Royal Navy.
Solebay has an illustrative history. Among the highlights are two events in 1776. In the first, Solebay transported American Colonel Ethan Allen, leader of Vermont's famous Green Mountain Boys, from Ireland to South Carolina. Later that year while patrolling off Bermuda, Solebay briefly pursued and exchanged cannon shots with USS Providence under the command of Captain John Paul Jones, father of the U.S. Navy. In 1781 Solebay sailed with the British fleet under Admiral Thomas Graves to support General Lord Cornwallis' besieged army. Solebay's previous captain from 1775 to 1780, Thomas Symonds, became the senior naval officer at York River for the surrendering British forces at Yorktown along with Cornwallis. After the Battle of Virginia Capes, the British forces moved south from the American coast to the Caribbean. There, Solebay fought the French under Rear Admiral Sir Samuel Hood.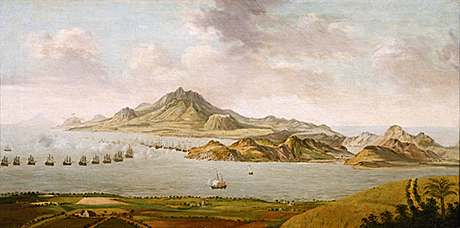 Repulse of the French at Frigate Bay St. Kitts, 26 January 1782. Large View. (Painting by By Thomas Maynard. London: National Maritime Museum, 1783.)
In late 1781, before a peace treaty ended the American Revolutionary War, the French wanted to gain the valuable British sugar islands in the Caribbean as war prizes. To this end, the French mobilized naval and army resources to capture St. Kitts and Nevis. On 11 January 1782, an invasion force of 74 French vessels sailed past Nevis' Fort Charles and onto St. Kitts where it landed 7,000 troops to take the British fortress at Brimstone Hill. This naval force included 21 ships of the line led by Admiral de Grasse's flagship, the 110-gun, triple-decker, Ville de Paris -- the most powerful warship in the world. Within days, Rear Admiral Sir Samuel Hood responded by sailing from Antigua with 22 warships. As the British rounded Nevis from the south and approached in line, the French weighed anchors from Frigate Bay, adjacent to St. Kitt's capital at Basseterre, and sailed to meet them in battle.
During the engagement, Solebay acted as a repeating vessel toward the rear, meaning she was responsible for passing signals to the rest of Hood's fleet. As the Royal Navy pressed forward, Solebay ran aground off Nevis. French vessels quickly seized the opportunity to fire upon the stranded vessel. Under enemy bombardment, and with little hope for help, Captain Charles Holmes Everett set fire to her and moved his crew ashore. After an hour, and with 160 barrels of gunpowder, Solebay blew up. Despite losing the vessel, Captain Everett prevented capture to the enemy without loss of life, helped the British displace the French from their anchorage in St. Kitts and win a tactical victory. Today, the remains of this conflict rest on the seafloor of Nevis. Wish us luck this week as we study the wreck.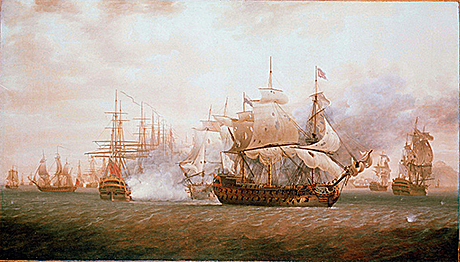 The Battle of Frigate Bay,26 January 1782. Large View. (Painting by Nicholas Pocock. London: National Maritime Museum, 1784.)
If you have questions or comments, please email us at cartellone@tamu.edu.
Return to MUA Project Journals home page.