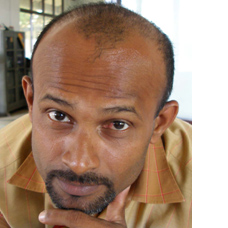 The Last Day
Today was our last day of field work. Although we were tired from working day and night on field work and report writing, we felt sadness that it was our last day in the field. From the very beginning I felt that the day was going to be difficult for us. Both teams were working on the Victory site today. While Team 2 left on time we faced trouble with our out-board motor (OBM). It had to be changed for a new one from the local dive shop but even the new OBM was giving us much trouble to get started.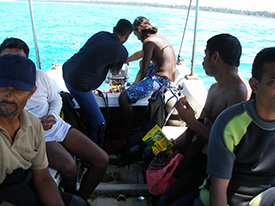 Elahena trying to start the out board motor on our boat. (Photo courtesy of the Central Cultural Fund).
Finally when we got to the wreck site the marker buoy was not there. However since Team 2 was already there we anchored near their boat. Five of our divers went down to get the last few measurements, photograph the wreck and recover our survey materials. A little time later the sea changed very much, her calm attitude changed and big high waves started. Chandre and I were on the boat as backup diver and dive coordinator. I felt that the sea conditions may effect the divers very badly but they had not given up on their goal and came back having achieved the target.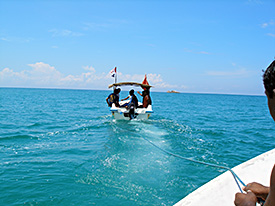 Team 2 towing us back to shore. (Photo courtesy of the Central Cultural Fund).
We completed the task at the same time as Team 2. When we tried to start our OBM it gave us much difficulty. Finally Team 2 came to help us. We tied our boat to their boat and they began to tow us back. It took a long time to reach Hikkaduwa. All the time we tried to gets our motor started but it was not successful. A big problem arouse when we come closer to the beach. Heavy waves were crashing into the shore and with the boats tied together it could have been dangerous. We untied the line as we approached the beach and our divers swam out with the line, eventually pulling our powerless boat into shore safely. We found out later that the motor did not start because the petrol and kerosene fuel lines had been mixed up.
Comments, questions, or suggestions?
For field school related issues please contact: amer.khan@flinders.edu.au
For website related issues please contact:
mua@keimaps.com
Return to Project Journal home page.