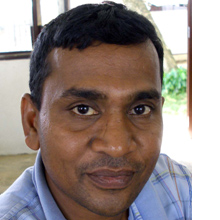 Unconserved glass bottles on display at a local museum. Large View (Photo courtesy of the Central Cultural Fund).
Maritime Collections in the Community
As the non-diving conservators we spent the day collecting data on maritime artifact collections within the community, a part of our field work component of the training program. Our team consisted of Nerina (our instructor), Anusha, Kamal and me (the conservators). Janaka, another conservator in our team, was diving with the archaeology teams today. Following on from our visit to dive schools and an antique shop in Hikkaduwa yesterday, we visited a private collection in the Galle Fort Museum. We found a large collection of displayed ceramics and glass objects in two rooms. One item of interest was a heavily concreted anchor, supposed to be from Seenigama, about 1 km from Hikkaduwa. The museum manager wanted help from us to classify and label their objects.
(Above)Ceramic fragments recovered from shipwrecks by local divers and collectors. Click on the image to zoom in for a closer look. IE users must allow blocked content to see zoom image (Photo courtesy of the Central Cultural Fund).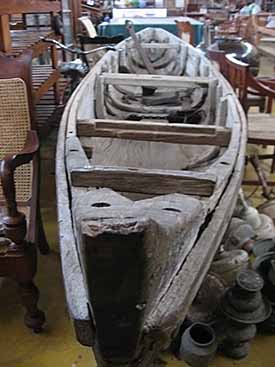 A traditional Sri Lankan craft in an antique shop in Galle. (Photo courtesy of the Central Cultural Fund).
Next, we went to the Olanda antique shop. We found a very interesting traditional wooden boat in the furniture section. It was about 5.7m long, 0.9m wide and 0.42m deep, and the outer surface was coated with black water proof material, possibly tar. The identification or type of vessel is unknown. Copper alloy coins instead of washers have been used to fix supporting frames on the inside of the boat.
We spent the rest of the day visiting various local collections and interviewing collectors to develop an idea of the number of shipwreck artifacts that have been salvaged without archaeological controls and from where.
Comments, questions, or suggestions?
For field school related issues please contact: amer.khan@flinders.edu.au
For website related issues please contact:
mua@keimaps.com
Return to Project Journal home page.