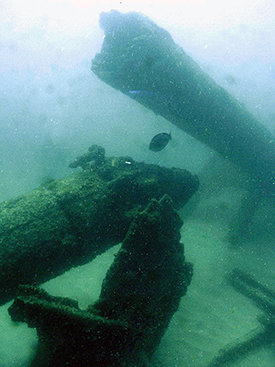 One of the masts of the Earl of Shaftsbury snapped in two. Large View (Photo courtesy of the Central Cultural Fund).
The Earl of Shaftsbury
As Team 2 we investigated the Earl of Shaftsbury (wrecked 1893) which is located 1.5km off Kahawa and is a 20 minutes boat trip from Hikkaduwa. Our team consisted of Amer (our instructor), Sanjeeva (navy diver), Pradeep (diver from the National Museum), Palitha, Daya, and me (maritime archaeologists). On our first dive we observed the bow, several masts, the rudder and a small anchor apart from the remaining hull structure at a maximum depth of 14 metres. After the first dive we measured the approximate length of the site using a GPS reading from buoys at the bow and stern of the vessel. The bow is facing east and stern to the west, while the wreck and debris field cover a 100m by 40m area.
The vessel appears to be a four masted iron hulled sailing vessel. On the second dive we used a measuring tape to confirm the approximate length of the hull, which came to just under 90 meters. We then laid a reference line along the middle on the wreck to ensure we did not get lost on the site as it is very large and confusing. The vessel is lying on its port side with the masts lying flat to port and into the sand. The starboard midships section has partially collapsed inwards and an I-beam keelson can be seen with supporting frames. The bow and stern sections are listing to port at a 60 degree angle.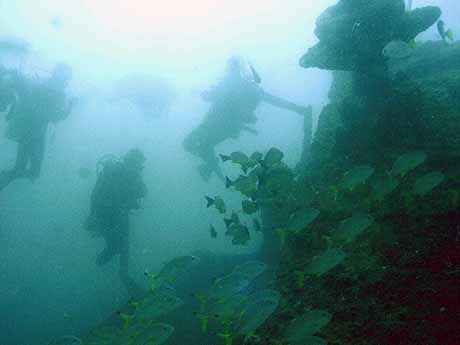 Team 2, descending onto the wreck site. Large View (Photo courtesy of the Central Cultural Fund).
We managed to secure a few survey control points to the wreck. Our team decided to start on the bow section and worked in two groups. Pradeep, Palitha and I worked on fixing primary survey control points outside the hull by hammering iron rods into the seabed. Daya and Sanjeewa worked on fixing temporary survey control points to the wreck structure itself and measuring distances between them. Palitha and I tied a rope connecting the control points and started taking trilateration and depth measurements between the control points. We only managed to take a few measurements before we finished work for the day.
Comments, questions, or suggestions?
For field school related issues please contact: amer.khan@flinders.edu.au
For website related issues please contact:
mua@keimaps.com
Return to Project Journal home page.