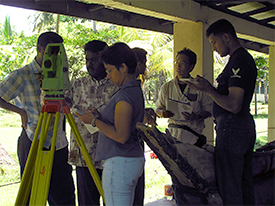 Setting up the Total Station before shooting in the points. Large View (Photo courtesy of the Central Cultural Fund).
Totally Total Station
Team 2 used the Total Station today. Amer Khan, our team supervisor gave a brief introduction about the applications of a Total Station in archaeological recording. The team decided to record a traditional watercraft, Ma-del Paruwa. This type of boat is used for fishing in the sea. One such boat is now exhibited at Martin Wickckramasinghe Museum at Koggala off the Galle - Matara road.
The team reached Koggala around 10.30am. Tamura Vaturu and S.A. Lalinda, who came from Anuradhapura, demonstrated how to set up the Total Station and take measurements. They also explained how to use this equipment for land surveys to get more accurate location.
The Ma-del Paruwa, a traditional sewn craft of Sri Lanka. Click on the image to zoom in for a closer look. IE users must allow blocked content in order to see zoomed image. (Photo courtesy of the Central Cultural Fund).
All of us used the Total Station to record details of a traditional watercraft. Since this was the first trial of using the equipment for most of us we could only manage to record the sheer line of the vessel by 4.00 p.m. But we all learned how to use the instrument and record measurements. That was just one part of the fieldwork. The second part, processing of data, was yet to be done.
In the evening, we returned back to the lab and Tamura explained how to process the data. It was till late in the night that all of us worked on the computers and processed the data that we had recorded. The instrument worked well and it was a good experience, learning new technology for accurate survey and recording.
Comments, questions, or suggestions?
For field school related issues please contact: amer.khan@flinders.edu.au
For website related issues please contact:
mua@keimaps.com
Return to Project Journal home page.