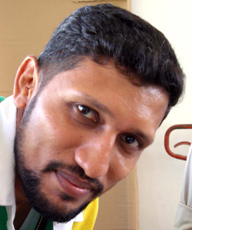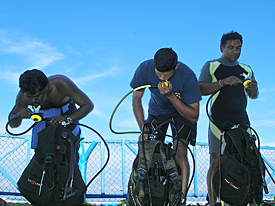 Members of Team 2 getting their equipment ready for the dive. Large View (Photo courtesy of the Central Cultural Fund).
V is for Victory
This was our first day on the iron hulled steam vessel called the Victory. Very little is known about the vessel, including its original name, as "Victory" is only the local name for the shipwreck. The GPS location of the site was recorded by Team 3 during their first dive on the site therefore we used the same location in order to find the shipwreck. Also the marker buoy that was fixed by Team 3 was still there making it quite easy to find the site. At first all team members made a dive together to get familiar with the site and to plan the survey.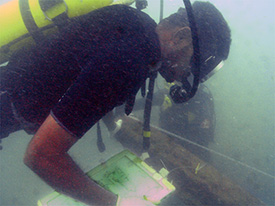 Sanjeeva working in heavy surge on the Victory site. Large View (Photo courtesy of the Central Cultural Fund).
From our first dive we produced a basic sketch of the site and had a discussion during our surface interval about the area we were going to survey. Palitha and I wanted to start from the bow and continue towards the stern. Darshani and Daya suggested we survey the area around two large boilers in the midships. Amer advised us to select a survey area of no more than 10 x 10 m. in order to get more accurate measurements as there was a lot of surge on the site. Finally we all agreed to start the survey from the bow of the vessel.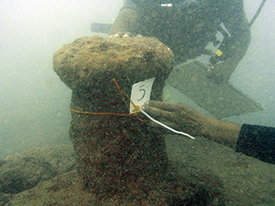 Setting up control points on the Victory. Large View (Photo courtesy of the Central Cultural Fund).
We carried out a trilateration survey since there were a lot of frames and beams projecting vertically upwards that would make a baseline offset survey more difficult. Darshani, Daya and I labelled 5 control points from A to E on the shipwreck while Palitha and Pradeep fixed control points numbered 1 to 5 around the wreck. We completed all our trilateration measurements between these control points to establish a datum framework for the survey. When we finished for the day the sea was a little rough and we experienced a large surge resulting in a drop of visibility to less than two metres.
Comments, questions, or suggestions?
For field school related issues please contact: amer.khan@flinders.edu.au
For website related issues please contact:
mua@keimaps.com
Return to Project Journal home page.