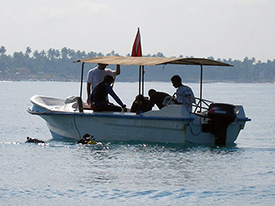 The Participants begin their search for the wreck. Large View (Photo courtesy of the Central Cultural Fund).
The First Effort
The first day of the UNESCO field school diving activities were full of challenges, to go and find the site and to do recording work within the limited time. Our team consisted of Elahena (diver), Sanath, Nande, and myself (underwater archaeologists), Janaka (conservator) and our instructor Alok.
We left Hikkaduwa dive center at approximately 9am. We passed several miles parallel to the main land mass. We had the previous GPS reading which lead us to the site of the steel hulled shipwreck, locally known as the Victory.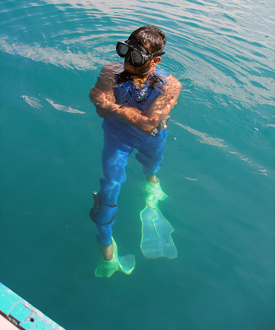 Elahena cooling off before the dive. Large View (Photo courtesy of the Central Cultural Fund).
After anchoring at the site Sanath and I tried to find and locate the wreck. But the shipwreck was not there. We also conducted a circular research in a nearby area but all these efforts were in vain. The team was disappointed but I awakened my faint memory of the visual transits for the site and led the team to another location where we correctly anchored close to the wreck site. We had a great success for the day by finding the site, placing a buoy on the site and setting up a baseline.
Comments, questions, or suggestions?
For field school related issues please contact: amer.khan@flinders.edu.au
For website related issues please contact:
mua@keimaps.com
Return to Project Journal home page.