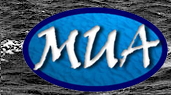 Side Scan Sonar Survey
We finished our survey of the lagoons on Saipan utilizing our side scan sonar system over select targets. We chose the high profile sites that we could photograph and correlate with side scan sonar. These sites included the possible Japanese sub chaser, the Japanese landing craft, the "Shipwreck" or the Chinsin Maru (sunken post WWII) and the Emily seaplane, as well as several US landing craft sunk in Garapan Lagoon.
Please feel free to contact us with your comments, questions, or suggestions. You can reach Jason Burns at jason@searchinc.com and Michael Krivor at michael@searchinc.com . Questions related to the MUA website can be sent to mua@keimaps.com.
Return to Project Journal home page.