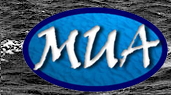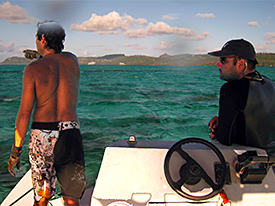 A local guide helps the team find submerged plane wreckage.
Plane Wrecks
One aspect of the survey includes searching for plane wrecks. Planes, unlike shipwrecks, contain very little iron. The engine blocks usually are one of the only things that a magnetometer will detect. Here in Saipan we have relied on the local's knowledge of plane wrecks throughout the harbor as well as our remote sensing instruments. One site we have investigated near the outer reef in Tanapag Harbor is known to the locals as the "Japanese Zero" site. Preliminary analysis suggests that it may be the remains of an American TBM Avenger and not a Japanese Zero (Mitsubishi A6M Zero). Have a look at the video and let us know what you think.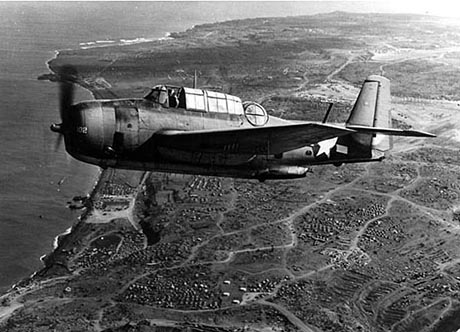 Watch underwater plane wreckage video. (Photo of TBM Avenger Courtesy of the Naval Historical Center.)
Please feel free to contact us with your comments, questions, or suggestions. You can reach Jason Burns at jason@searchinc.com and Michael Krivor at michael@searchinc.com . Questions related to the MUA website can be sent to mua@keimaps.com.
Return to Project Journal home page.