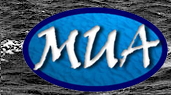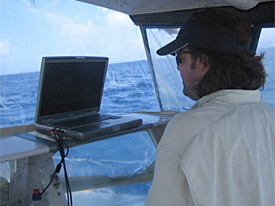 Krivor driving the survey vessel.
Survey Survey Survey
We have been surveying for 6 days straight and have completed the areas outside of Tanapag Lagoon and have begun clearing the areas inside Tanapag. Next week will bring at least one day of diving to identify the targets we have generated inside and outside of Tanapag Lagoon. We know of at least one post WWII shipwreck and one Japanese sea plane that are sunk in the Lagoon. Some of our initial analysis of the targets generated look very promising for locating sunken landing craft and possible ordnance associated with the invasions.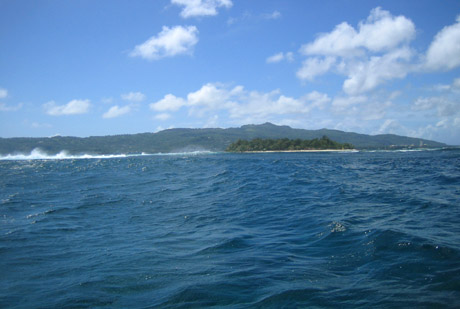 Reef Survey, looking towards Saipan.
We then we move on to the reef line outside of Garapan Lagoon. We will keep you up to date on what we find during the diving.
Survey lines outside of Tanapag Lagoon. Click on map to zoom in for closer view.
A big part of this project is the documentary film being shot by Brady Barrineau for the Historic Preservation Office and the National Park Service. Brady serves as out boat captain and our daily videographer. We will upload his footage as soon as it becomes available for posting. Brady has integrated well into our long, hot days doing survey, but he is ready to dive!
Survey lines inside Tanapag Lagoon. Click on map to zoom in for closer view.
Please feel free to contact us with your comments, questions, or suggestions. You can reach Jason Burns at jason@searchinc.com and Michael Krivor at michael@searchinc.com . Questions related to the MUA website can be sent to mua@keimaps.com.
Return to Project Journal home page.