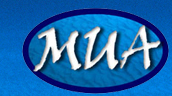 ECU's 2006 Fall Field School
Project Journal
6 September 2006

By Calvin Mires
Today we launched the new ECU dive barge from which we will be conducting all our operations over the next few weeks. The barge is a 28 -foot aluminum hulled vessel with an open bow, allowing easy entry and exit into the water. Its shallow draft is excellently suited for the estuarine and riverine environments in which ECU students often work. With plenty of room on its main deck, overhead tarp to protect from sun and rain, twin outboard engines, and benches specially designed to store and hold dive tanks, this new research vessel is a welcomed addition to our project.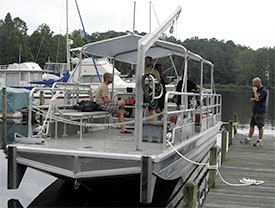 The ECU Maritime Program's new dive barge.
The dive barge is so new that it has yet to be named, creating the awkward situation of continually referring to her as "the dive barge," an ignominious nomenclature ill-befitting the use and services she will provide. Despite this unfortunate circumstance, she was given her first mission today as Dr. Stewart, Mark, Joe, and I were instructed how to operate the barge properly and safely by ECU's Boat Master, Eric Diadorrio. Such a safety "check-out" is a requirement for all faculty, staff, and qualified students to operate vessels through ECU. Everything on the water went smoothly and the new barge handled beautifully.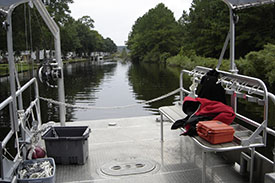 View from new dive barge showing bench with built in scuba tank rack.
As we enjoyed learning the nuances of our new research vessel, the other members of the team were collecting the last necessities for the project, acquiring last minute items, checking and calibrating the baseline, and organizing other equipment for tomorrow. We were hoping to start some small site reconnaissance today, but as often happens in fieldwork, activities took longer then planned and we had to bump our first visit to the site to tomorrow.
For more information you can visit the ECU website at:
http://www.ecu.edu/maritime/index.htm
Return to Project Journal home page.