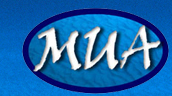 ECU's 2006 Fall Field School
Project Journal
18 January 2007

By Calvin Mires
As a new year and a new semester begin at ECU, it is over due for some reflections on the 2006 Fall Field School. Noted in other entries, a field school involves more than simply the field work. Students worked assiduously in the months after fieldwork ended, mapping, researching, writing, and presenting their conclusions and recommendations regarding Sites A and B. To culminate the field school, they gave a public lecture at the North Carolina Estuarium in Washington, NC, in early December. One audience member approached me and complimented the amount and quality of the work they had accomplished. He was correct.
Michelle, Tricia, Adam, Joe, and Amy produced high quality results in a short amount of time. They were assigned tasks that brought them outside of their comfort zones. Whether it was site surveying or creating ship lines with the information at hand, they had to analyze the situation, create a strategy to deal with the challenge, implement that strategy, and sometimes adapt their original plan to meet a changing and dynamic environment. They had to wear many hats and had to rely on each other to accomplish their goals. They succeeded remarkably well. They challenged each other, poising new questions and raising future research opportunities. They collaborated efficiently and effectively, and they kept a sense of humor that made working with them a true pleasure.
The success of this project journal that we began many months ago (and is now coming to a close) is a testament to their hard work and affable personalities. Dr. Stewart and I gave little instruction on what or how to write for the journal, except to caution them against spelling errors and inappropriate language. We wanted it to be informative, but informal and accessible to a diverse audience. We, however, were unsure how it would evolve, but the students took the helm, expressing their character and viewpoints in a way that was extremely enjoyable and entertaining (at least for us!). They were diligent in providing daily entries and usually highlighted that particular day's more interesting events.
While the students provided the daily information and the occasional humorous commentary, an important, but silent team member stayed up late at night to put their words on the web. I cannot express my gratitude more strongly for the work Kurt Knoerl performed in making this project come together and continue. He was a leader and a motivator throughout the project. I am glad I have gotten to know him and look forward to working with him on other projects.
While this field school (and this project journal) is coming to a close, it appears that Site B, or what has now been officially labeled, the "Washington Park vessel," has raised more questions—questions that require future field schools to re-investigate the site. Hopefully, we can keep you updated!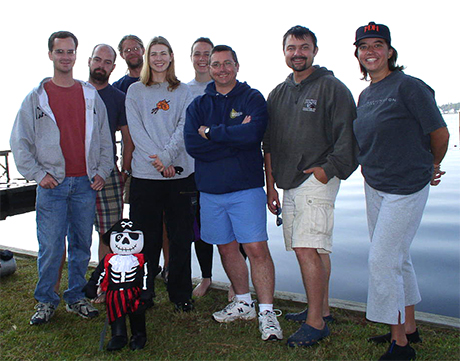 The 2006 Pamlico River Crew left to right: Adam Friedman, Joe Hoyt, Jolly Roger, Mark Keusenkothen, Tricia Dodds, Amy Leuchtmann, David Stewart, Calvin Mires, Michelle Damian.
For more information you can visit the ECU website at:
http://www.ecu.edu/maritime/index.htm
Return to Project Journal home page.