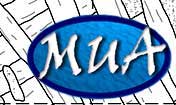 University of West Florida
Maritime Field School
Project Introduction
10 June 2008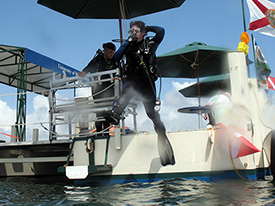 Diving operations in Pensacola Bay off UWF Barge. (large view)
Welcome to the University of West Florida's 2008 Maritime Field School Project Journal!
This summer's Maritime Field School is a 10 week intensive course designed to teach students field techniques of archaeological excavation and documentation of underwater sites. The field school is directed and overseen by Dr. John Bratten and Mr. Greg Cook. The crew for this summer includes 1 Field Director, 3 Field Directors in Training, 2 Graduate Supervisors, and 15 students.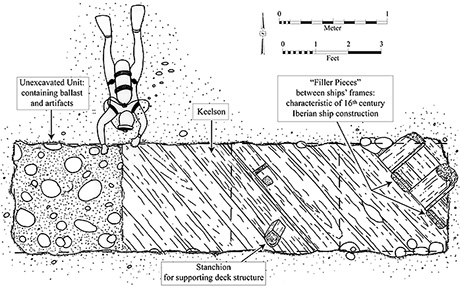 Plan view of test trench excavated during last summer's field school on Emanuel Point II. (large view)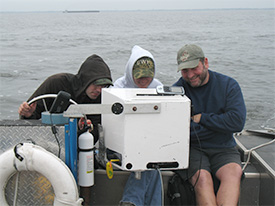 Remote sensing operations on the Brick Wreck in Pensacola Bay.
This summer's activities include excavation on a sixteenth-century shipwreck site in Pensacola Bay, remote sensing survey using magnetometer, sub-bottom profiler and side scan sonar equipment, and hull recording of a nineteenth-century sidewheel steamboat in Seminole, Alabama. Students will also participate in site assessments and dive on known historic wrecks located in the area. Fieldwork will be supplemented by lectures and discussions on themes ranging from the colonization of northwest Florida, maritime landscapes and economic maritime connections in the Gulf region.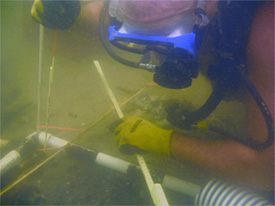 Underwater excavations on the Emanuel Point II shipwreck.
When not diving, students will perform topside duties such as dive tending and support, artifact recording, and database entry. Students will also have the opportunity to participate in the conservation and laboratory analysis of recovered material.
Thematic objectives of the field school include:
Understanding the role of watercraft in the historic and economic development of the Gulf Region
Understanding basic ship construction and recognize features of historic wrecks in Pensacola and surrounding waters
Understanding the role of seafaring in the colonization of Florida
Identifying maritime landscapes and their various components
We hope you will enjoy our weekly project journal. Please feel free to contact us if you have any questions or concerns at: mua@keimaps.com.
Return to Project Journal home page.