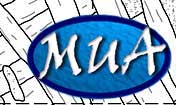 Welcome to the University of West Florida's 2009 Maritime Field School Project Journal!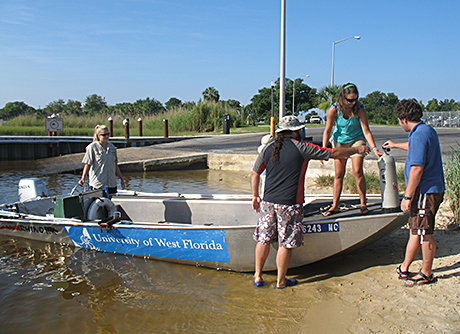 Loading UWF boat for dive operations.
The University of West Florida's Maritime Archaeology Field Methods is an intensive course designed to teach students field techniques of archaeological excavation and documentation of underwater sites. The course is directed and overseen by Dr. John Bratten and Mr. Greg Cook.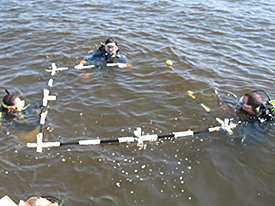 Setting up new grids on EPII.
This summer's activities include remote sensing survey using magnetometer, sub-bottom profiler and side scan sonar equipment, excavation on a sixteenth-century shipwreck site and a circa 19th century wooden wreck, as well as site assessments and dives on known historic wrecks located in the area. Fieldwork will be supplemented by lectures and discussions on a range of themes.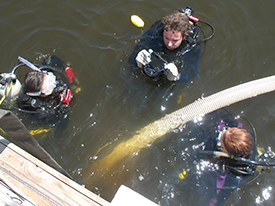 Students setting up the dredge on EPII.
When not diving, students will perform topside duties such as dive tending and support, artifact sorting and recording, and database entry. Students will also be called on to participate in the conservation and laboratory analysis of recovered material.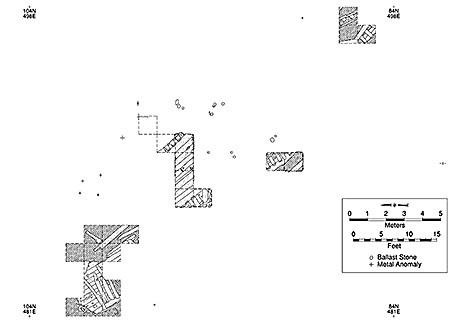 Site Plan of Emanuel Point II (Large View).
Please feel free to contact us if you have any questions or concerns at: mua@keimaps.com.
Return to Project Journal home page.