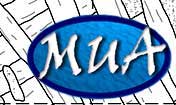 Before field school begins each student must go through UWF's Scientific Diver Training Workshop. Throughout the course of the week students learned archaeological field methods, boat safety, basic scientific SCUBA skills, as well as historical background on this summer's research projects.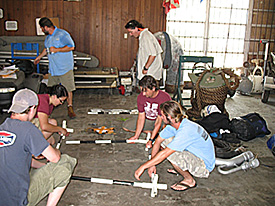 Students practicing setting up grids during Scientific Diver Training Workshop.
The workshop began Tuesday morning. First, students went through several training stations on dry land. Field Directors in Training and Graduate Supervisors were in charge of 5 stations. Students were divided into 4 groups and rotated through each of the stations during the course of the day. Dean led the knot tying stations where students were taught to tie the half-hitch, bowline, sheet bend, clove hitch and cleat hitch knots. Kendra and Tiffany were in charge of the low and high tech survey methods station. This rotation gave students an introduction to the Hypack software, as well as techniques for performing circle searches. Irina taught introduction to compass navigation. Dr. Bratten and Christine showed students the correct way to fill out paperwork and document artifacts. Greg and Wayne demonstrated how to set up the dredge, hoses, and grids.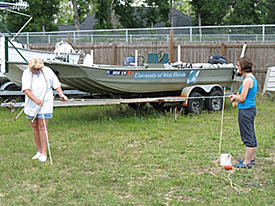 Lynne and Amanda practicing circle searches.
On Wednesday students attended lectures on the research of Emanuel Point I and II, Iberian ship construction, and remote sensing survey methods. After the morning lectures students gathered at UWF's Marine Services Center and learned about the correct loading and unloading of the boats.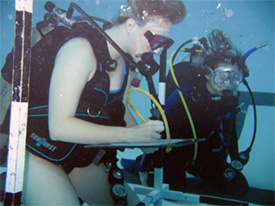 Ashley and Jenn mapping underwater.
On Thursday and Friday students continued to use the skills they learned Tuesday. This time they performed knot tying, compass navigation, dredge set up and circle searches underwater. Thursday, students gathered at the UWF indoor pool to go through the underwater training stations in a controlled environment. Friday, the students went to the Emanuel Point I site in Pensacola Bay to perform these stations in open water.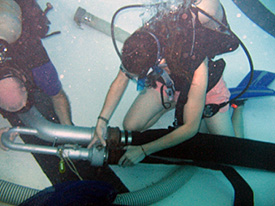 Colleen setting up the dredge in UWF Pool.
After this week's intensive training, the students are prepared for the start of UWF's 2008 Maritime Field School. So far, group cohesiveness has been very strong and we are looking forward to a safe, educational, and productive field school!
Please feel free to contact us if you have any questions or concerns at: mua@keimaps.com.
Return to Project Journal home page.