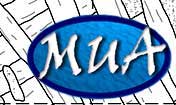 After the Dive, What Happens to All Those Artifacts?
7 October 2008
By Colleen Reese
Although the field work for the UWF Underwater Archaeology field school has wrapped up, the archaeology is no where close to over. Occasional excavations continue on the Emanuel Point II, Brick Wreck, and the Pensacola Waterfront. Artifacts from these excavations continue to pour into the Archaeology Conservation Laboratory, waiting patiently in freshwater holding boxes for the next step in the archaeological process.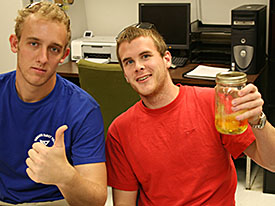 Students Ben Kost and David Ludwig present an acetone rosin solution they prepared to conserve archaeological wood from EP II.
The next portion of our blog will focus on following a few artifacts from our projects as they progress from the sediments of Pensacola Bay to their new resting place on display or in collections. Over the next few weeks, four UWF graduate students will update on our projects, highlighting the nitty gritty details of the conservation of archaeological materials.
So why is conservation important?
Conservation is a crucial part of recovering artifacts. In fact, excavating underwater sites without prior plans for the conservation of recovered materials often leads to very unfortunate situations where much potential information is permanently lost as artifacts are slowly destroyed.
Archaeology is destructive and because of this, it is critical to retain as much as possible. Artifacts are stored in museums or collections facilities so that they can be used for future studies and interpretations. Without proper conservation, researchers would return to collections of underwater artifacts to find nothing but bags of dust. (For a great video on underwater artifacts, check out the Mardi Gras wreck on the MUA website: https://mua.apps.uri.edu /in_the_field/mardigras.html)
Conservation of materials of marine sites is particularly important because they are inundated with both water and salts. If artifacts excavated from marine sites were left to dry, they would almost always shrink and crumble into a pile of bits. In the first classes of Conservation of Archaeological Materials, students learn these basic principles, as well as an understanding of the ethics and expenses involved in being responsible with artifacts after the digging is done. We learn about the chemistry involved in artifact conservation, as well as about various solutes and solvents typically used when ensuring the future stability of artifacts.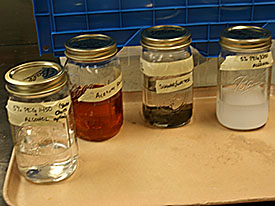 Four different types of consolidants being used by students to conserve wood from EP II. From left to right: 1450 weight PEG dissolved in alcohol, acetone rosin, sugar water and 3350 weight PEG and alcohol.
The first artifacts to be conserved from the Emanuel Point II wreck this fall were organic remains. One of the great things about underwater sites is that there is preservation of many materials that aren't usually found as frequently at terrestrial sites. Plant remains tend to preserve better underwater, however they are not stable outside of water. For wood, in particular, this is because the internal parts of cells are dissolved away and water has filled in their place, keeping the cell walls standing. If a wooden artifact were allowed to dry, the surface tension of the water evaporating would cause cellular collapse. One method for preventing this is to allow a consolidant, or bulking agent, to be absorbed into the wood before it dries. Another method is to freeze the artifact and allow the water inside of it to sublime, that is, to go directly from a solid to a gas without first turning to a liquid, therefore reducing the amount of surface tension placed on the cells during drying.
Groups of students selected pieces of woods that had been soaking in freshwater for a year, to be sure that all the salt had dissolved away and wouldn't be left dry in the artifacts. The wooden artifacts chosen were probably either dunnage (the "packing peanuts" mentioned in the field school wrap up blog) or parts of barrels that had been excavated from EPII in summer 2007. Students are using many different methods of conservation on the wood so that when the various experiments are finished, we will know what methods work the best for conserving wood from Emanuel Point II. Polyethylene Glycol (PEG), a waxy consolidant, is very commonly used in wood conservation. Students are conserving wooden artifacts in different weights of PEG, which offer different abilities to penetrate artifacts and different strengths, as well as with different solvents, both alcohol and water. There are perks and downfalls to every method of conservation. Other consolidants students are exploring include rosin (which is naturally occurring in trees and is dissolved in acetone), sucrose (or sugar, which is an inexpensive option), hydrolyzed keratin (particularly from feathers), gelatin, and moth balls dissolved in alcohol. Some pieces of wood are also undergoing conservation without a consolidant, using sublimation. Students placed uncovered wood into a freezer to undergo sublimation, essentially freezer-burning the wood to remove its water more gently than air-drying. Some wooden artifacts were flash-frozen with dry ice and the ice inside of the wood is subliming in a vacuum chamber, which helps maintain a proper pressure and temperature for sublimation. Other pieces of wood are undergoing a combination of processes, first by being partially consolidated with PEG and then flash frozen and dried in the vacuum chamber.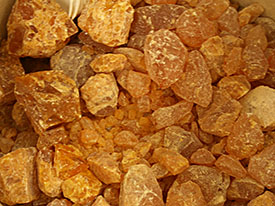 Rosin before it is dissolved in acetone to conserve wood.
Conserving wood as described takes time-while consolidants are absorbed and ice sublimes. Check back to find out which treatment works the best and to hear about the conservation of other artifacts from the sites our field school dove on this summer. Coming next: ceramics and bone.
*All material regarding the preservation and conservation of artifacts, including our methods of conserving artifacts as presented in this blog are largely drawn from the following source:
Donny L. Hamilton
1998. Methods of Conserving Underwater Archaeological Material Culture. Conservation Files: ANTH 605, Conservation of Cultural Resources I. Nautical Archaeology Program, Texas A&M University, World Wide Web, http://nautarch.tamu.edu/class/ANTH605.
Specifically Files 1 (Overview) and 6 (Wood Conservation).
Please feel free to contact us if you have any questions or concerns at: mua@keimaps.com.
Return to Project Journal home page.