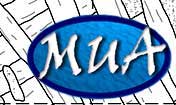 Seminole Wreck by Wayne Abrahamson
During the first week of the 2008 Maritime Field School, the class spent five days recording various features on the Seminole Wreck, which is a one hundred and five foot long steamboat equipped with a walking beam type steam engine. The wreck is lying mostly submerged along the bank of the Blackwater River very close to where the historic Seminole Lumber Camp was once located, but is now a quiet rural neighborhood. The class was divided into teams of three students with each team recording various features such as the hatches that pierce the decking. They also looked for maker's marks on the twenty-foot long boiler, and collected wood samples. Though the class spent only a short time on the wreck, they learned a lot about steamboat construction and machinery, and really got a good appreciation of the Seminole Wreck as it is one of the few fully intact steamboats left in the maritime landscape. Also, since this was the first week of field school the supervisors quickly developed a working relationship with the students that stood them in good stead for the remainder of the summer.
Waterfront Project by Kendra Kennedy
Despite a late start to fieldwork due to difficulty in obtaining the appropriate permits, the 2008 Maritime Field School students were able to assist with investigations of various sites just off the Pensacola shoreline that will provide much data for Kendra Kennedy's thesis on the maritime cultural landscape of Pensacola's waterfront. Students were involved in many aspects of these investigations including remote sensing survey of Pensacola Bay, which aimed to discover and record magnetic and acoustic anomalies that may, with further investigation, turn out to be maritime sites. Students also ground-truthed several anomalies through circle searches and diver investigation, discovering mostly modern refuse, but also a previously unknown ballast pile covered with wire-cut bricks and metal debris. Unfortunately, EPIII eluded us again this summer despite our best efforts. Finally, students participated in investigations of ballast piles or dumps on the waterfront that contain historic artifacts, including ceramics, glassware, pipe stems, brick, tile, and bone, among other items. Recording and dating these ballast dumps will illuminate the nature of trade and ballast disposal at Pensacola's major wharves. Thus, students' experiences on the waterfront took them through some of the major steps of archaeological investigation, from discovery to verification to recording. Thanks to all the students, supervisors, field directors, and faculty who assisted with this work.
Previous Entry| Page 2 of Wrap Up
Return to Project Journal home page.