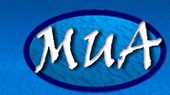 Flinders University 2007 Field School
in Underwater Archaeology
21 February 2007
By Jennifer McKinnon
Project Wrap Up
Field school is over. Those are strange words to utter because for so many months we've been planning the field school at Victor Harbor – making phone calls to property owners for access, picking the best training sites, researching the prevailing winds and tides, "guesstimating" the number of rooms needed for accommodation, and tracking down students from all over the globe for the copious, yet necessary, paperwork. And really, it isn't over and won't be for some time as there are thank you letters to be sent, the marking of student papers, and the cleaning and putting away of gear, to mention a few. Nevertheless, for the field school students it is over and so is the online field journal – over, but not forgotten.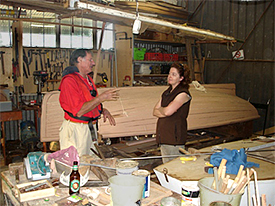 Armfield Chairman Rick explaining boat restoration to Kellie.
The Victor Harbor field school was a huge success on many levels. Students participated in the archaeological survey of a number of sites including newly investigated sites on Hindmarsh Island that were known to locals but had not been recorded yet. Using methods and techniques they practiced during the AIMA/NAS training course, students chose the correct equipment and methodology to successfully complete these surveys. Students also benefited from working with participating heritage agencies and organizations including the South Australia Department of Environment and Heritage, Heritage Victoria and the Lighthouse Archaeology Maritime Program. These agencies provided invaluable logistical support by supplying vessels, but also provided students with the experience and know-how of practicing maritime archaeologists.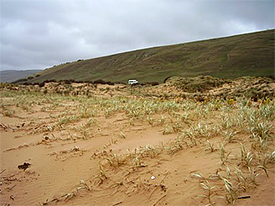 Tunkallilla Beach off road driving (Note Uni van for scale. Yes, we came down that cliff!).
Other points of interest included a barbeque at the Armfield Slipway boatshed where a number of dedicated men and women volunteer their time and knowledge to restoring historic vessels. Students ambled about the slip checking out the recent projects and talked shop with the "salties". A few dedicated students and staff visited a remote historic shipwreck site and salvage camp at Tunkallilla Beach on their "day off". This trip turned out to be less a "day off" than an adventure in off-road driving. Even so, fun was had by all due to our gracious hosts who toured us around the sites and provided us with another delicious barbeque.
As for the students' experiences at field school, well, you've been able to read about those through this online journal. This journal was as much an experience and experiment as was running a field school. It was an opportunity for students to reflect on their experiences and share them with a wider audience. Further, it was a chance for the general public to catch another glimpse at what maritime archaeology field schools are all about. Although MUA already has played host to a maritime archaeology field school journal, it is certain that the Flinders online journal has contributed yet another layer of understanding to this unique, reflective learning experience.
Like ECU's David Stewart, I too was uncertain as to how this online journal would work and what the students' reactions would be to putting their work and experiences out there for a larger audience (despite the privilege of seeing its success with ECU). To my surprise and pleasure the online journal exceeded my expectations and most of the students' as well. Many of the students were delighted to submit their daily journal and asked if it would be possible to submit more than once (students asking to do MORE work!?!). Others commented on how their friends and family appreciated learning about what they were doing in the field. Some students were pleased with the online journal's ability to force them to reflect on their field work and team dynamics. As an educator, this last bit pleased me the most. Upon closer inspection of these journal entries you see that the students are truly reflecting on their experiences. They are reflecting on what worked for them in the field, how their teammates were helping them to achieve or not achieve their research goals, the dangers of working in such environments and how they felt about those dangers, their excitement at the beginning of the day combined with the staggering disappointment of missing equipment or batteries that weren't charged, the fact that they actively relied on their teammates for their own safety and well being, etc.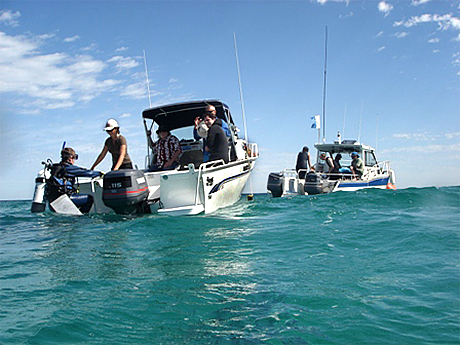 Heritage Victoria and South Australia vessels anchored on the Star of Greece site.
Perhaps my favorite ingredient in their journal entries is the humor by which they reported these setbacks, failures and successes. Maybe I enjoy the humor so much because maritime archaeology reports and monographs often are devoid of such humor, despite the fact that humor is key to our survival in the field. Maritime archaeology can be very challenging work and it is best conducted with a combination of skill, determination, teamwork and humor. For me, the students are learning this valuable ingredient and have demonstrated this through wearing wacky outfits, picking a team song (Bringing Sexy Back), and adopting team mottos ("we will forget the wreck…we won't forget the walk"). Again, field school is over, but not forgotten!
Special thanks should go to students, supervisors and staff who helped make field school happen. Thanks also to the South Australia Department of Environment and Heritage, Heritage Victoria, Lighthouse Archaeology Maritime Program, Victor Harbor Holiday and Caravan Park, Armfield Slipway, "Jeff the fisherman", property owners who allowed access at Tunkallilla and Hindmarsh Island, and MUA for hosting a fabulous website. Thanks Webmaster Kurt for all your help!
Comments, questions, or suggestions?
For field school related issues please contact: jennifer.mckinnon@flinders.edu.au
For website related issues please contact:
mua@keimaps.com
Return to Project Journal home page.