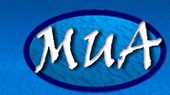 Flinders University 2007 Field School
in Underwater Archaeology
15 February 2007
By Najat El Hafi Skeate
The Australian coastline is home to archaeological riches: in excess 4,000 shipwrecks are laying on its seabed, to the joy of heritage professionals, archaeologists, divers, snorkelers, tourists… and myself! A good number of these are international vessels, which were once used for the shipping of goods and the transport of new migrants settling in the Colony.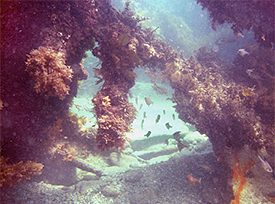 Star of Greece bow section and marine life.
For the last two days, my Yellow Mellow Team Mates Kelly, Mark, Brian and myself, have been surveying a late colonial era shipwreck. It rests today at the bottom of the sea, at a depth of 6 to 9 meters, some 100 meters from the shore. The Star of Greece (SOG)wreck was a stunning three-masted iron cargo ship built in Ireland, in 1868. It was mostly known at the time for its swiftness in connecting Calcutta or Adelaide to London. SOG was one of the 13 ships in the Star Line which, during much of its working life, would have primarily carried Australian wheat, Indian spices, tea and jutte to the UK. SOG was registered at Lloyds shipping registrar in 1869, I believe, as a 70 meters long, 11 meters wide and about 7 m deep vessel. Whilst writing this, I can't stop recalling that this is exactly the type of cargo and ship that Dad would have no doubt enjoyed insuring…and probably re-insuring knowing how treacherous the weather could be...
SOG's life tragically ended on the 13 July 1888 when it was blown ashore as a result of a violent storm (and most probably a navigational error too). SOG is such a well preserved wreck that many of its fixtures and fittings (inc. iron floors, masts posts etc.) are still highly recognizable even for the most untrained eye. Its location is highly discernible today both via aerial photography or the shore since part of the bow becomes exposed at low tide. SOG has undoubtedly become part of the natural landscape if not, part of the cultural landscape of Port Willunga. For my Luxemburgish, English, Moroccan, Italian and French (well all of you, my friends, wherever you happen to be living today), Port Willunga is located in St Vincent Gulf, in the southern tip of Australia.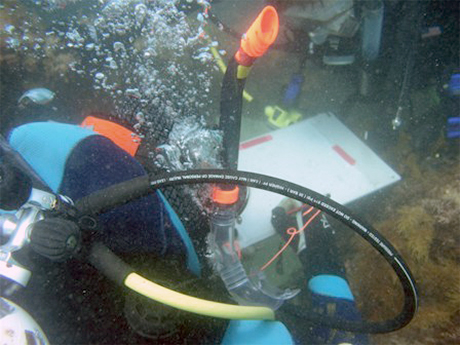 Najat and Mark recording the bow section of Star of Greece.
I must say that this field school has been a steep learning curve for me since I have come from a strictly terrestrial archaeology background. Although most techniques and surveying methods remain practically the same, the challenge lay less with the use of the surveying equipment underwater and more about keeping your buoyancy right, your ears and nose clear, fighting the surge; and caring about doing minimal disturbance to marine life as SOG is home to many faunal and floral species. The aim of the game is to glean as much information as one can, with minimal disturbances to the wreck site, in the shortest amount of time.
Comments, questions, or suggestions?
For field school related issues please contact: jennifer.mckinnon@flinders.edu.au
For website related issues please contact:
mua@keimaps.com
Return to Project Journal home page.