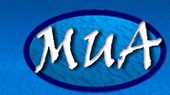 Flinders University 2007 Field School
in Underwater Archaeology
16 February 2007
By Karson Winslow
After a hard day's work (or "hard yakka" as the locals would say) involving all teams in the field, we had the pleasure of listening to a very informational and thought provoking lecture from Grant Rigney. He is a Ngarrindjeri Traditional Owner who lives in the Coorong and is working for the Ngarrindjeri Heritage Community to educate those about the culture and practices utilized by his people. This talk represented a different angle of thought that we had not yet employed at field school, and made the majority realize the fact that the land we had been surveying on actually was habited by a group of Indigenous Peoples who hold the history of the land, in which they express through their creation stories.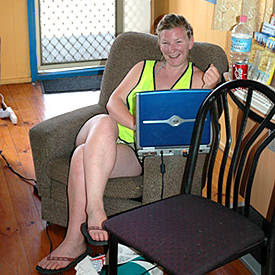 Karson in a sporty postprocessing outfit.
Unfortunately, red team has come to the end of the fieldwork and now has to focus on post-processing in the sweat lodge, also known as the communal kitchen. It has come to the point at field school that USB ports are full (or as we like to refer to them as "Geek Sticks"), computers cannot hold all of the underwater photos plus 400 photos of pylon disintegration studies, and last meals consist of a mélange of all the leftover food that has not been eaten.
Most exciting for the day was the pleasure of spending the afternoon with one of the prestigious and up and coming geophysicist, Ian Moffat, or just "Moff". He teaches us just enough to somewhat grasp the concepts of remote sensing techniques, but not too much to cause us not to employ his services anymore. We like to think if it wasn't easy, Ian wouldn't do it. This arises due to an amusing banter between archaeologists and geophysicists.
An attempt has been made to have a dress up party for the last night's celebrations, but most likely due to a lack of energy, this burnout has drained those of their creativity. This did not stop me though from donning an electric yellow survey vest, bathers top and Bermuda shorts for our time in the sweat lodge. The creative outfit really did have an effect on my ability to design a very sexy magnetometer data map.
All in all, this project has been quite enjoyable, especially for those who had to deal with the shark survey plane, who we seem to suspect enjoys pulling us out of the water just at the moment we descend for a dive. Now is the time for a possible all-nighter to meet the 5pm deadline. Wish us luck!!!
"Dorkus Dynamite"
Comments, questions, or suggestions?
For field school related issues please contact: jennifer.mckinnon@flinders.edu.au
For website related issues please contact:
mua@keimaps.com
Return to Project Journal home page.