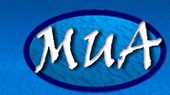 Flinders University 2007 Field School
in Underwater Archaeology
13 February 2007
By Brian Williams
Well today, from a reader's stand point, was not all that interesting for the Mellow Yellow Team. We started the day with a delicious breaky of bacon and eggs and then proceeded to the caravan kitchen where the illustrious Ian Moffat discussed the theory and technologies involved in geophysics. Since other students have already written on their experiences with the magnetometer survey and I would love to tell you all the inner workings and procedures involved, I won't. Instead, I'm going to let you in on my feelings and experiences with the problem based learning style and atmosphere of the Flinders University Field School, Port Elliot.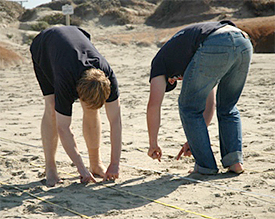 Mark and Brian setting up mag survey grid.
In a nut shell, Field School has had its mishaps but for some reason they seem to happen to all the other teams. Our lot has been running rather smoothly. We all get together and seem to have the same mind about what we want to do with our investigations. The Mellow Yellow Team began work on the showboat Ada &Clara. Now I don't know if you guys are aware of how a problem based learning environment works but I'm going to tell you anyway. Students are given a site, equipment, and given free reign (well almost free reign) to survey and record the site as they deem best. Then at the end of Field School each team is assessed by how they approached each site and what they produced and/or learned not do at a site. This being the case, we decided to choose a team leader for each site and then run democratic meetings with the leader having ultimate say over what is done. I was team leader at showboat and chose to produce environmental reports, interviews, site plans, and an overall cultural survey of the area around the site. To supplement this we experimented with some new techniques and attempted to find a way to record the ship's lines and dynamic features using the Total Station and then importing the data into a modeling program to produce a 3D image. This way each point would consist of an Easting/Northing value and we could rebuild the site in a 360º environment. (Just in case you wanted to know… it worked pretty well).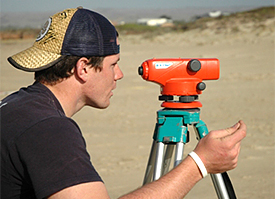 Brian using the dumpy level to shoot in positional data.
Our second site was a search for the historic baths at Victor Harbor Causeway and it was led by Kellie. We approached this site differently as it was not a definite location. After reaching our area of the causeway Kellie ran us through swim line and circle searches. We shot in the causeway, extremities of our site, and features on Granite Island with the Total Station. We later talked to a local fisherman and visited the Victor Harbor Interpretation Center to discover the jetty and baths were nearly 200 yards down the causeway from our search grid. Armed with this knowledge we redirected our focus to produce a plan of the scouring affects in the area, the deterioration processes of the causeway, and an overall maritime cultural landscape study of Victor Harbor.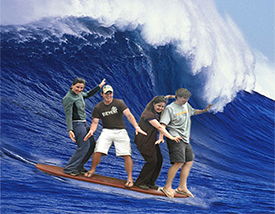 The not so mellow yellow team. (Editor's note: This picture may have been retouched ....a lot.)
Overall, it's been a fairly enlightened experience. Different from other field schools I've attended. Field school administrators purposely left the grading procedures up for interpretation and groups have to open their minds to all the possibilities of a site and make sure all bases are covered. We get experience in the equipment we are most interested in and gain valuable leadership and site planning experience. Also, just as a side note, our supervisors (John/Kylie/Toni) are the best and totally super.
Comments, questions, or suggestions?
For field school related issues please contact: jennifer.mckinnon@flinders.edu.au
For website related issues please contact:
mua@keimaps.com
Return to Project Journal home page.