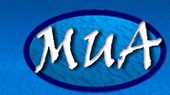 Flinders University 2007 Field School
in Underwater Archaeology
12 February 2007
By Kellie Clayton
Today Team Yellow spent the day on Middleton Beach, Horseshoe Bay conducting a fine detail magnetometer survey for the remains of the 19th century schooner Emu. We set up a 20 meter by 20 meter perimeter centered on a "hot spot" located by a previous survey of the beach at 2 meter intervals. Using tapes, we divided the perimeter into a grid with 0.50 meter intervals, so that we could record and store measurements for 1861 individual points.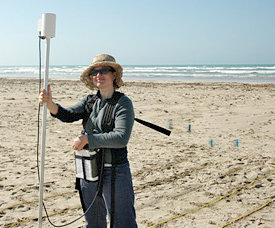 Najat stands ready for the magnetometer survey.
It took 10-15 minutes to complete just 1.00 meter! Mark won the chocolate frog by completing one swing in just 9 minutes. We started at 0937 AM and it took us until 1346 PM with four of us taking turns to carry the magnetometer, completing a quarter of the grid each. We'll be looking at the results tomorrow and see how good we were at keeping the magnetometer pointed north as we collected data.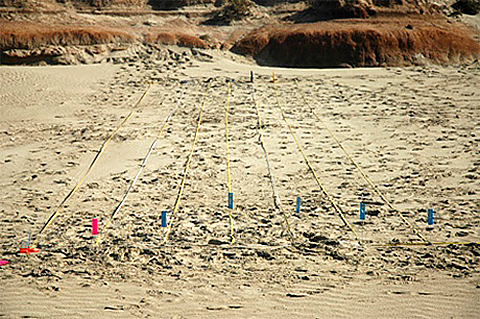 Magnetometer survey tracks laid out in the sand.
Except for the person with the magnetometer, there's no doubt that these surveys entail a lot of hanging about for the other people there. So, my advice to you, if you know you're heading out to do one of these surveys, is to take along something to do or keep you company. Our suggestions are:
Brian: Marguerites (after 4PM!), boom box, Dimitri Martin, inflatable swimming pool,beach umbrella.
Ian (the Professional!):, Ipod, coffee, newspaper, swag or lounge chair, carton of beer for 4PM.
John: Water chair, relevant reading material, to fight assumptions, cooler (filled), cell phone.
Kellie: Duff Cooper diaries, fresh sketch / notebook, beach towel with pillow, banana lounge, bathers.
Mark: Hammock, shark-free water to surf or swim in, Soccer and or slosh ball set, bocce set, music.
Najet: Soduko, diaries of C17 French sailor in Japan, special friend, dog and stick, Ipod.
Comments, questions, or suggestions?
For field school related issues please contact: jennifer.mckinnon@flinders.edu.au
For website related issues please contact:
mua@keimaps.com
Return to Project Journal home page.