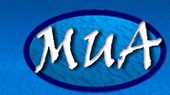 Flinders University 2007 Field School
in Underwater Archaeology
9 February 2007
By David Van Zandt
Good afternoon, sorry, G'day. It's Friday, 9 February 2007, the end of our first full week of field school (Hurray)! This is a quick note as in this field school's schedule can change at a moments notice and I have about 30 minutes to jot down my thoughts.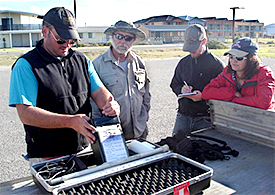 Ian Moffat setting up the magnetometer for team survey.
Yesterday the "Green Machine" spent the day trudging up and down Middleton Beach doing a reconnaissance magnetometer survey of the beach area looking for the remains of the shipwreck Emu with a Geometrics magnetometer strapped to our chests, carrying a large mag sensor and sporting the finest of fashions with a straw hat and a GPS for a flower. Our task was to try and find the remains of the schooner Emu (not the bird now). It was a two masted wooden schooner that broke it's mooring in 1853 at Port Elliot during a gale, hit Fisherman's rock, broke in two and was driven on Middleton Beach. Historical data provides details of it destruction on the beach and provides several position locations. We received expert tutelage from Ian Moffat, the "guru of geophysical survey";) Ian is well versed in these methods and an excellent turner of very "colorful" phrases as well as a professional in this field.
Today we had the task of assembling all of the mag survey data into a consistent data set for gridding. This is a long and tedious process and I was happy to share my limited Excel skills with the team. Once we had a consistent data set we were educated in the "art" of producing magnetic anomaly maps. This being said, for these that know me, you can make these things say "anything" you want ;)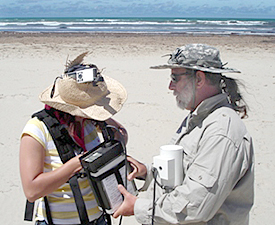 Agnes Milowka and David Van Zandt gearing up to mag the beach.
As for Australia, never believe what the tourist brochures or the travel dialogs say. The national animal is (I hope) the kangaroo aka: roo, hoppie or skippy. They would have you believe that these fine creatures are everywhere. Well I am here to tell ya the truth. I've been looking for two weeks now and not a skippy in sight, matter of fact my team mates, Dave Kalinowski and Agnes, plus our supervisors and staff, are getting real tired of me asking where skippy is. Well I'll find him before I leave!!!! But the one thing I do know is that skippy steaks are good, we've had them twice now. (You really have to marvel at a culture who eats its national emblems or just be impressed by the fact that they ask you to do it with beer) Got to run. Later.
Comments, questions, or suggestions?
For field school related issues please contact: jennifer.mckinnon@flinders.edu.au
For website related issues please contact:
mua@keimaps.com
Return to Project Journal home page.