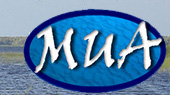 The Lake Ontario Maritime Cultural Landscape Project
27 May 2008
By Ben Ford and Jessi Halligan
The third (and last) summer of the Lake Ontario Maritime Cultural Resource Survey has officially begun. This portion of our "charmed escape" (as dubbed by a kind but possibly somewhat-delusional former volunteer) is located around Kingston, Ontario, and is based out of Canada. There are three project areas, two located in Canada, and one in American territory. Like last year, they will be surveyed with a magnetometer, a side-scan sonar, divers, and pedestrian survey. These project areas were chosen because of their lack of modern disturbance, their association with British and Canadian activities (as opposed to American), and because of their close cultural association with the project areas from last year, even despite the international boundary.

Survey areas for the 2008 Lake Ontario Maritime Cultural Landscape Project. (large view)
We arrived in Watertown, NY on the evening of May 13th after another exciting drive pulling a U-Haul trailer full of tanks with a pickup bed filled with survey equipment. The crew for the first portion of this season includes Brad Krueger, who just finished his first year in the Nautical Archaeology Program at Texas A&M, and Jessi Halligan, who was with us last year. Our first day was spent reclaiming our boat and other equipment that had been stored for us since last summer by Tim Abel, a very generous local archaeologist, and by crossing the border and moving into our residence for the first portion of the project. Luckily, the Canadian border control allowed us access to the country, even with the missile-shaped towfish (side-scan and magnetometer) in the truck bed. The house for this portion of the project is located on Wolfe Island and is nearly idyllic: a farmhouse built in approximately 1810, surrounded by fields and located approximately a half mile from the Wolfe Island-Cape Vincent ferry. On the downside, there is no internet, so sending these journal entries require a ferry ride to Kingston and a trip to the Sleepless Goat coffee house (good pastries and free wi-fi).
Our second day of the project was absorbed by setting up the boat, testing the survey gear, and sending Jessi to make an enormous Wal-mart run for food and supplies. Everything seemed to be in order, so on Friday we did our first day of survey. The first area to be surveyed this year is the South Bay of Carleton Island. Carleton Island is currently American, but it was held by the British during the Revolutionary War (there is even a fort on the island as proof of their domain) and has been utilized by residents from both sides of the border throughout history. North Bay on the island was used as a shipyard by British Forces, but South Bay is even more protected, so we are excited about the potential of this project area.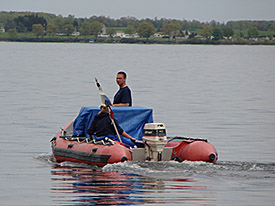 Jessi and Brad motor off at the beginning of the 2008 season. (large view)
The first day of survey went smoothly, and we had several targets. However, it is still spring up here in the North Country, so the weather is somewhat unpredictable. Therefore, we were unable to survey on Saturday. On Sunday, weather reports were good, so we went back out to survey. Unfortunately, the magnetometer was non-functional. Something had gone wrong with its internal workings and we were forced to ship it back to the manufacturers in California. This turn of events put the survey in limbo and required a change in plans. As we write this entry, we still do not know the prognosis on the magnetometer, or when it will be returned. Therefore, we switched gears and started surveying Carleton Island by foot and by fin.
During the late 19th century, Carleton Island was developed by wealthy industrialists as a vacation spot, so there is an enormous abandoned villa located on the edge of our survey area, accompanied by docks, boathouse remains, large retaining walls, and other remnants of any good vacation site (tennis courts, gilded railings, and other such small necessities). There are also several foundations of other vacation homes and farmsteads, as well as the remains of the Revolutionary War fort mentioned above.
We spent two days this week surveying the land portion of the Carleton Island project area, interviewing the current landowners, and mapping the several 19th century foundations on the island. These were productive days, despite our broken magnetometer. Given that the weather was poor these days with strong winds and intermittent rain showers, we were probably better not using the remote sensing equipment anyways. By the end of both days the waves were truly impressive: 3-4 feet high, crashing over the Wolfe Island ferry dock and causing our small inflatable boat to be periodically airborne.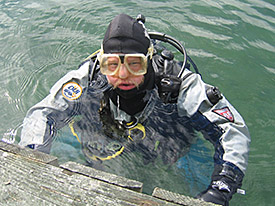 Drysuits are great but 40 degrees is still cold. After 2 hours in the water even your eyeballs are cold.
Following the land survey, we began a diving survey of South Bay. By swimming back and forth across the bay at five meter intervals we are able to record items situated between docks, near shore, and otherwise inaccessible with our boat and remote sensing equipment. By starting the survey earlier this year than last year (two months) we have the benefit of less underwater weeds and improved visibility (nearly 30 feet). Unfortunately, the water is also very very cold (40 degrees Fahrenheit), so after two hours in the water, we had to call it quits before hypothermia set in. We discovered several items that are likely associated with the late-19th century activity on the island such as a copper cupola ball, a winch and boiler, and a large cribbing base that appears to be a dock footing.
Please feel free to contact Ben at ben.ford@iup.edu with any comments, questions, or suggestions during the weeks to come.
Return to Project Journal home page.