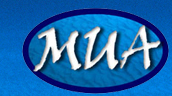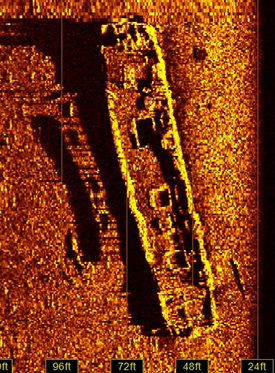 Sidescan sonar image of the brigantine Sultan (Sidescan by David VanZandt / CLUE).
The 2011 field season of the Cleveland Underwater Explorers, Inc. (CLUE) ended in the discovery and announcement of a major new shipwreck off Cleveland, Ohio. The wreck of the brigantine Sultan was discovered in Lake Erie 2 miles off Euclid, Ohio, in 45 feet (14 meters) of water. This ship sank in a storm on September 24, 1864, and was first dived by CLUE on August 12, 2011. The wreck had been previously located by shipwreck searcher and CLUE associate Rob Ruetschle. This wreck has a unique cargo of grindstones on its deck and is in excellent condition, including having intact railings. A preliminary survey and documentation of this wreck was performed using measurements, photographs, and video. The Sultan was announced to the public and featured on a local television station's newscast on November 15, 2011.
Since the wreck is located in a highly traveled location near shore and would be easily located, the decision was made to work with the Maritime Archaeological Survey Team (MAST), a group of avocational divers involved in the archaeological survey of Lake Erie shipwrecks, to officially moor this wreck and open it to the general diving public. The mooring was approved in late 2011 and installed in the late spring of 2012. Its location was announced with a special charter to the wreck on May 26, 2012, and MAST will conduct a detailed archaeological survey of the site during the summer of 2012 under the direction of CLUE's Director and Chief Archaeologist David VanZandt. This wreck was also presented by David in a presentation at the Shipwrecks/2012 conference in Welland, Ontario, on March 31, 2012.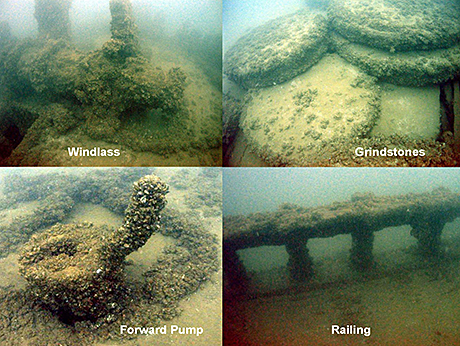 Views of the Sultan (Photos by David VanZandt / CLUE).
Another new wreck was announced to the public in November, 2011. This was the 140-foot (43-meter) barge located off Cleveland, Ohio, in 30 feet (9 meters) of water. It was located late in the 2010 search season but not dived until June 18, 2011. It was verified to be a wooden barge of an unusual design for dumping its contents through doors in the bottom of the barge. A preliminary survey obtained measurements, photographs, and video on August 6, 2011.
Tom Kowalczk of CLUE continued assisting in the scanning of potential targets from the War of 1812 battle site survey in western Lake Erie. This is where Commodore Perry's United States Naval fleet engaged and captured the British fleet west of Put-in-Bay, Ohio. This work was done in conjunction with the Great Lakes Historical Society (GLHS) and archaeologist Carrie Sowden. GLHS obtained a grant to evaluate this potential battle site from the National Park Service's American Battlefield Protection Program.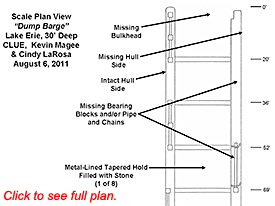 Scale plan view of the "Dump Barge" (Plan by Kevin Magee and Cindy LaRosa).
As part of CLUE's public outreach activities, Jim Paskert of CLUE continues to give Lake Erie shipwreck talks at various library branches. Jim has given these talks for four consecutive years. CLUE also continues to be a gold sponsor at the Bay Area Divers (BAD) Shipwrecks & Scuba show. Kevin Magee of CLUE gave a presentation on the discovery of the C.B. Lockwood at ScubaFest in Columbus, Ohio, on March 17, 2012, and also gave a series of shipwreck presentations at the Cleveland Lakefront State Park (CLSP) for its winter program series.
Jim, Tom, and Kevin gave their annual seminars at the Maritime Archaeological Survey Team (MAST) nautical archaeology workshops on April 14-15, 2012. They spoke about archival research, wooden ship construction, underwater preliminary survey techniques, and the new Sultan shipwreck.
David presented a paper at the Society for Historical Archaeology (SHA) conference in Baltimore, Maryland, on January 4-8, 2012, on the discovery of the wooden steamer C.B. Lockwood. This paper has been submitted by David, Kevin, and Jim to the Advisory Council on Underwater Archaeology (ACUA) for publication.
CLUE enjoyed another exciting season in 2012 documenting Lake Erie's wealth of underwater history and cultural heritage. For additional information please visit their website at: http://www.clueshipwrecks.org.
View previous CLUE posts on the MUA:
The 2012 Season
The 2010 Season
The 2009 Season
The 2008 Season
The 2007 Season
Past Projects
An Introduction
Return to In The Field home page.