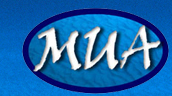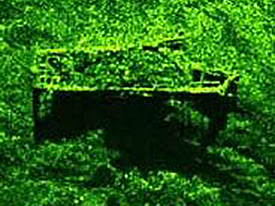 Sidescan sonar image of small South Bass Island barge (Sidescan by Tom Kowalczk / CLUE).
The Cleveland Underwater Explorers, Inc. (CLUE) finished the 2010 field season with the discovery of five new shipwrecks. The shipwrecks discovered include an historic wooden steamer, a large barge off Cleveland, a small barge near South Bass Island, and two small recreational boats.
The most significant shipwreck discovered was the steamer C.B. Lockwood. This vessel has been long-sought in Lake Erie and was one of the largest missing wooden ships in the lake. It was located in 75 feet (23 meters) of water off Fairport, Ohio. The discovery and confirmation of this shipwreck required the use of unique instrumentation and novel research. The wreck was announced in December, 2010, and a presentation was given on its discovery by CLUE chief researcher Jim Paskert at the Shipwrecks/2011 conference in Welland, Ontario, on April 2, 2011.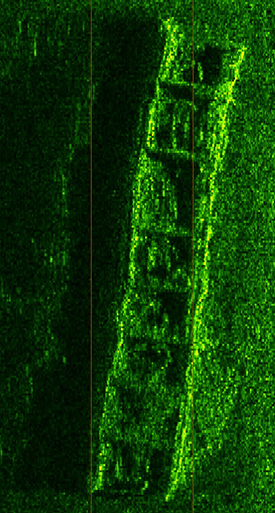 Sidescan sonar image of large Cleveland barge (Sidescan by David VanZandt / CLUE).
Another new wreck appears to be a 140-foot (43-meter) long barge off Cleveland, Ohio. Sidescan images were obtained, but due to its discovery late in the year, CLUE will have to wait until next season to explore it. A wreck near South Bass Island was discovered by CLUE Researcher/Searcher Tom Kowalczk and dived on July 13, 2010, by Tom and CLUE Director David VanZandt. It was determined to be a small wooden work barge. Tom also found a small outboard motor boat near Kelleys Island, and Dave found a small recreational boat off Cleveland.
Additionally, CLUE announced a wreck found near Sandusky, Ohio by Tom in 2007 and surveyed by local divers in 2008. The new wreck is called the "Sandusky Barge" and is suspected to be the dredge Detroit #2.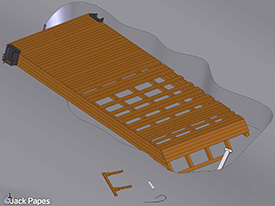 Dredge Detroit #2 (Sketch by Jack Papes).
Tom continued assisting in the evaluation of potential targets from the War of 1812 battle site survey in western Lake Erie. This is where Commodore Perry's United States Naval fleet engaged and captured the British fleet west of Put-in-Bay, Ohio. The original magnetometer survey was performed in 2009 as part of CLUE's assistance to the Great Lakes Historical Society (GLHS) and archaeologist Carrie Sowden. GLHS obtained a grant to evaluate this potential battle site from the National Park Service's American Battlefield Protection Program. Targets identified in the 2009 season were dived, but none proved to be from the battle.
As part of CLUE's public outreach activities, Jim continued to give talks at various library branches to support "Shipwreck Camp: 2010," a children's summer camp dedicated to the study of shipwrecks. Jim has given these talks for three consecutive years now. CLUE also continued its third year of gold sponsorship and display at the Bay Area Divers (BAD) Shipwrecks & Scuba show in November, 2010.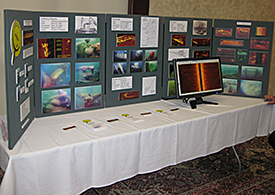 CLUE booth and display at Shipwrecks & Scuba show (Photo by Cindy LaRosa / CLUE).
Jim, Tom, and CLUE Co-Director Kevin Magee continued their seminars at the Maritime Archaeological Survey Team (MAST) annual nautical archaeology workshops in spring, 2010. As usual, Jim and Tom gave a seminar about archival research, and Kevin gave a seminar on wooden ship construction. A presentation was also given to the MAST membership at their November, 2010, membership meeting to update them on CLUE's activities and to propose giving the organization the location of a new shipwreck off Cleveland to survey and identify. This generated quite a bit of excitement, and it is hoped this will create more interest in MAST and its mission to document and preserve Great Lake shipwrecks.
CLUE shipwreck exhibit at Cleveland Lakefront State Park (Photo by Kevin Magee / CLUE).
At the request of the Cleveland Lakefront State Park (CLSP), Kevin designed built, and installed a hands-on Lake Erie shipwreck exhibit for children and their parents at the new Exploration Station at the park's headquarters. The grand opening of the Exploration Station was held on June 18, 2010, and the final touches to the shipwreck display were completed before the end of the year. Kevin also gave three winter talks for the CLSP on the bathymetry of Lake Erie and its shipwrecks, including one children's talk.
Dave and Kevin published the article "The Lost Wreck of the Cortland Found" in the spring, 2010 issue of the Inland Seas, the quarterly journal for GLHS. The Cortland was a barkentine that sank in an infamous collision in 1868 and was located by CLUE in 2005.
CLUE looks forward to another exciting season in 2011 documenting Lake Erie's wealth of underwater history and cultural heritage. For additional information please visit their website at: http://www.clueshipwrecks.org
View previous CLUE posts on the MUA:
The 2012 Season
The 2011 Season
The 2009 Season
The 2008 Season
The 2007 Season
Past Projects
An Introduction

Return to In The Field home page.