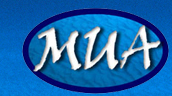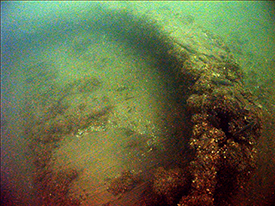 Rounded stern and deck of buried wooden tug (Photo by David VanZandt / CLUE).
The 2009 field season produced more shipwreck discoveries and public outreach activities for the Cleveland Underwater Explorers, Inc. (CLUE). Additionally, CLUE assisted in several archaeological surveys and excavations in Lake Erie.
Three new shipwrecks were discovered by CLUE in 2009, including a mostly-buried wooden tug boat, a wooden barge, and a wooden construction platform. Plans are also being made to announce several wrecks found in previous years. Throughout the season several searches were conducted on potential shipwreck locations based on historic information and documents identified by CLUE's chief researcher, Jim Paskert. The research team continues to find new information valuable in the search for new shipwrecks.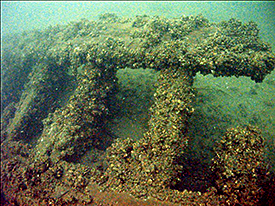 Wooden barge structure (Photo by David VanZandt / CLUE).
Tom Kowalczk of CLUE assisted Brad Kruger, a student from Texas A&M University, and Carrie Sowden, nautical archaeologist for the Great Lakes Historical Society (GLHS), with the continuation of the Anthony Wayne archaeological survey. This 1850 sidewheel steamboat was discovered by Tom in 2006 and underwent a pre-disturbance archaeological survey in 2008. This year the wreck site was partially excavated, exposing the unique early-era horizontal crosshead steam engine. Thirty (30) survey days were spent in this effort and approximately 1600 cubic feet (45 cubic meters) of silt were moved during the excavation process. The area excavated was refilled at the end of the season to protect the site.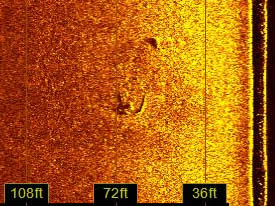 Sidescan sonar image of buried wooden tug (Sidescan by David VanZandt / CLUE).
Tom also performed a magnetometer survey of the War of 1812 battle site in Lake Erie where Commodore Perry's United States Naval fleet engaged the British fleet west of Put-in-Bay, Ohio. The battle was a turning point for United States forces in the Great Lakes during this war. The exact location of the battle has never been located or investigated. Many potential targets were identified during the 21-day survey, and several sites were dived. None of the dived target sites proved to be from the battle, but further investigations will continue in the 2010 field season. This survey was performed as part of CLUE's assistance to GLHS with their grant from the National Park Service's American Battlefield Protection Program. It is hoped the exact location of the battle site can be pinpointed and documented before the bicentennial in 2013.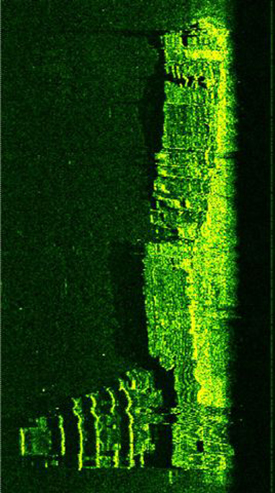 Sidescan sonar image of wooden construction platform (Sidescan by David VanZandt / CLUE).
As part of CLUE's public outreach activities, Jim Paskert continued to give talks at various library branches to support "Shipwreck Camp: 2009," a children's summer camp dedicated to the study of shipwrecks. This summer camp has been given in Cleveland for the past four years and is sponsored by the Cuyahoga County Public Library, Case Western Reserve University, and the Ohio Department of Natural Resources. Jim, Tom, and Kevin Magee also gave seminars at the Maritime Archaeological Survey Team (MAST) annual nautical archaeology workshops in spring, 2009. Jim and Tom gave a seminar about archival research, and Kevin gave a seminar on wooden ship construction.
David VanZandt presented a paper at the Society for Historical Archaeology (SHA) conference in Jacksonville, Florida, on January 9, 2010, on the schooner Riverside, an 1893 shipwreck discovered by CLUE in 2007. This paper was also submitted to SHA for publication. Kevin gave talks about the Riverside at ScubaFest in Columbus, Ohio, on March 21-22, 2009, at Shipwrecks & Scuba in Sandusky, Ohio, on November 21, 2009, and at Shipwrecks/2010 in Welland, Ontario, on March 13, 2010. Other talks were given at various local scuba clubs throughout the year.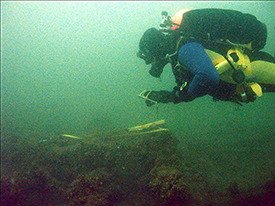 Survey work being performed by CLUE member Kevin Magee on the wooden barge (Photo by David VanZandt / CLUE).
Finally, Dave's thesis on shipwreck identification was submitted as his final requirement as an archaeological student. It was accepted by Flinders University in Adelaide, South Australia, completing his academic studies. Dave is now a degreed maritime archaeologist - congratulations Dave! For additional information about CLUE, please visit their website at: http://www.clueshipwrecks.org
View other CLUE posts on the MUA:
The 2012 Season
The 2011 Season
The 2010 Season
The 2008 Season
The 2007 Season
Past Projects
An Introduction

Return to In The Field home page.