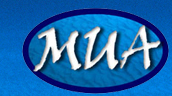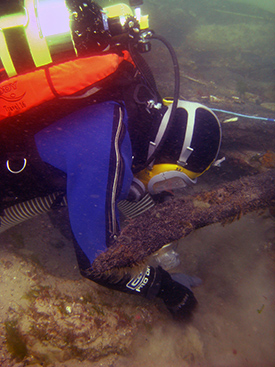 Student diver from Bournemouth University.
There's never a dull moment for Bournemouth University MSc Maritime Archaeology students. One week may find them diving to recover artefacts from a wreck, or another, investigating how climate change impacts marine heritage.
It is undoubtedly this practical experience that gives students the edge and makes Bournemouth University archaeology students some of the most employable in the country. As current student Hasan Istillozlu from Cyprus explains, "We are always getting job offers on our school e-mail addresses".
MSc Maritime Archaeology course leader, Paola Palma, describes this valuable fieldwork experience: "At the moment we are working on the Swash Channel Wreck site - One of largest maritime excavation project in UK since the Mary Rose! This is an English Heritage funded project and we work very closely with them. In fact, some students are doing paid work for them over the summer."
Hasan was fortunate enough to study the Swash wreck for his final project. He explains: "My project is about dating the Swash Channel Shipwreck using its artefacts. I used old and new findings from the excavation site, and contrasted them with similar artefacts from different shipwrecks."
But in order to conduct research of this calibre the MSc Maritime Archaeology students need the very best equipment at their fingertips. Bournemouth University has its own X-ray facilities, Scanning Electron Microscope, GIS technology, a map library, a diving store and much more.
Hasan explains how these resources are put to use: "Diving on the Swash Channel wreck was my first time on a real wreck. This was about studying photomosaic technique and technological recording of vessels, using waterproof cameras. Then, during the excavation time, I helped to record artefacts by taking photos, giving numbers to artefacts and measuring each piece."
It is important to note, however, that diving is not essential to this course. Former maritime archaeology student Kevin Stratford said: "You do not need to be able to dive, or have any desire to learn to dive, in order to fully take part in the course. I was told I could do the course without getting my feet wet, but nobody mentioned the mud!"
Kevin continued, describing a field trip to Salcombe in South Devon: "The major part of the field trip was a foreshore survey undertaken on behalf of Devon County Council (DCC) in order to record and document any archaeology for the DCC Historic Environment Record (HER). In addition to this we visited museums, wrecks, wreck sites and boats in both Devon and Cornwall in order to get a broader impression of the marine archaeological environment."
Throughout the course, students work closely with heritage associations and museums, such Poole Museum. The experience teaches them first-hand issues such as management, museum practices and conservation.
In fact, one of the course's key themes is the preservation of maritime heritage in situ, which is increasingly under threat as a result of global warming. This in particular is a hot topic with the United Nations Educational, Scientific and Cultural Organisation (UNESCO), who are keen to explore methods of preserving wrecks and artefacts whilst they are still underwater.
Current part-time student Bjorn Melin is conducting valuable research on this very issue for his main project. He explains: "I am undertaking research in to In Situ preservation of timber remains. I am carrying out a practical experiment to identify and quantify the links between copper and wood borers. The end goal is to find a new method of protecting our submerged timber heritage."
Paola explains: "Our master is focussed on the Management, Conservation and Preservation issues related to the Underwater Cultural Heritage. We have a team of international lecturers because it is important that students experience the best teaching brought together from international experts."
Visiting lecturers have included maritime archaeology legend, Honor Frost, pioneer of maritime archaeology in the Mediterranean Sea, who excavated the Marsala Punic Ships, Chris Dobbs of the Mary Rose Trust, Mark Dunkley from English Heritage, Ole Varmer, who has worked with the Titanic, and many more.
But where do these valuable study opportunities lead? Because the students have such excellent practical experience they are snapped up long before they finish their course. Bjorn explains: "I have been working on a number or projects including the New Forest National Park Heritage Project, which involves buoying and surveying a number of local wreck sites for the enjoyment of general divers, but also to highlight to the sailing community and general public our heritage beneath the sea."
He continued: "I have also been working on the Hampshire and Isle of Wight summer programme of inshore wreck survey and excavation. This project includes surveys on an 8000 year old Mesiolithic settlement through to more recent wrecks such as what is believed to be the (1794) HMS Pomone Bow section."
So with an abundance of fieldwork and research opportunities, it's no wonder BU Archaeology students are among the most employable in the country.
For more information visit the MUA's Educational Resource page here.
Comments, suggestions, or questions can be directed to research@themua.org