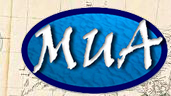 Flinders University 2008 Field School
in Underwater Archaeology
24 February 2008
By Mark Staniforth
Project Wrap UP
Field School is over for another year and it is always a relief to the Field School Director when everyone gets home safely and the Field School has gone off without an accident or incident. Over the past decade we have had more than 100 students involved in SCUBA diving at Field Schools in cold water (in Tasmania), warm water (in Queensland), low visibility (in Victoria) and in places where there are occasional shark alarms (in South Australia). But as I tell the students each year the biggest danger is actually the drive to and from the Field School and probably not the sharks or the SCUBA diving, which is closely supervised as well as carefully planned and executed. I always enjoy Field School but it is also nice to get home.
The students have done a great job over the 14 days by helping out, carrying gear and generally doing everything they could to make the whole operation run smoothly. Several days of cleaning up and washing gear was just another extra task ably completed by Jason, Jun and (mostly) the undergraduate students. Certainly we could not do Field School without our partners – Heritage Victoria which provided boats, vehicles and people, all of our guest lecturers who did their evening lectures and the team supervisors who provide their highly professional assistance and supervision. The students get a wonderful opportunity to talk with and learn from a range of people who work in maritime archaeology and related areas which is something they don't really get in a lecture theatre at a university.
Everytime we do a Field School we all learn from the experience while we manage to teach the students something about maritime archaeology fieldwork. This year the students all did underwater survey and excavation and spent some time on boats under a variety of conditions. In addition we also produce some useful results for our partner Heritage Victoria. This year we did a wreck inspection and survey on the Anieura, an excavation on the Clifton Springs long jetty site, relocated the Mountain Maid and confirmed that the Joanna wrecksite is currently buried. The Field School may be over but hopefully the students will take some of the skills they have developed into jobs in the field of maritime archaeology (or marine biology/aquaculture in the case of our group of five marine biology/aquaculture students). For the Field School Director there is still some marking to do but all the students did pretty well in the field and none were in any real danger of failing.
Comments, questions, or suggestions?
For field school related issues please contact: mark.staniforth@flinders.edu.au
For website related issues please contact:
mua@keimaps.com
Return to Project Journal home page.