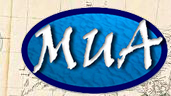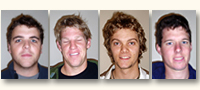 We could see the jealous rage burning in their eyes. Our group of undergraduates had achieved what trained experts had not. Here is our story…
Our team is named the Yellow Team, though we answer to many names including the treasure hunters, team Jamesons, the pterodactyls and team Doom. We are 2 Marine Biologists (Toby Fox and Mark Roberts) and 2 Aquaculturists (Josh Buss and Alex Payne) from Flinders University in Adelaide. We are all here in our holidays to undertake the topic as an elective, largely because of our interest in scuba diving and shipwrecks. We'd had a few days of diving on a jetty (Portarlington & Clifton Springs) to settle in and were drooling with anticipation for the chance to spend the day searching for the lost wreck of the "Mountain Maid" and hopefully diving from "Trim", Heritage Victoria's 30 foot twin hull Kevlacat with 2x 225hp Yamaha motors.
The day started at 7:00am, waking up to organize the equipment needed for the day ahead which was left up to us to decide on our own. Launching "Trim" went smoothly at Queenscliff boat ramp and we were on site at Swan Island by 10:00. Peter Harvey expertly surveyed the bottom using the echo sounder to look for any variations on the otherwise flat sand bottom. An approximate site location had already been given but because no one had dived on the wreck in 20 years they were only visual transects and old possibly incorrect GPS coordinates. Divers had already searched the area the day before but were unable to find the wreck with the given marks.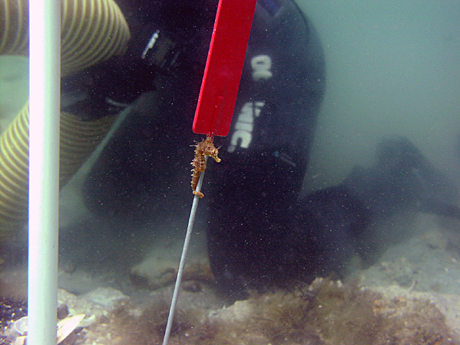 Figure 1 - A Seahorse attached to a test unit marker helps demostrate the visibility of the water. (Closer View) (photo by Jun Kimura).
When Peter noticed an anomaly on the sounder we threw out a marker buoy, weighted with a lead shot to mark the area so we could dive it later. The tide was too strong to conduct a site inspection with SCUBA but there was still good visibility so we decided to do a drift snorkel line search. Peter dropped us off up current and we all spread out 4 meters along the drift line. The water depth was about 5 meters, and we were not really sure what we were looking for. We suspected the wreck might have been completely covered in sand. Around 50m along our drift both Alex & Josh tugged on our line indicating that the buoy should be dropped. They had indeed found the wreck. We all dived down to check it out, however the current was very strong and we all gave up eventually and drifted down current, waiting for Trim to come and pick us up. Apart from Toby-John. He was more than happy to fin along with his technologically superior V12 fins.
After a quick bite to eat while waiting for the current to subside, we geared up with our SCUBA set-ups, and hit the bottom in anticipation of what we might see. There is definitely a large difference between what you can see snorkeling and with SCUBA equipment, and much of the wreck was found and subsequently mapped out.We were told by Heritage Victoria to organize a Wreck Inspection plan, which we intended to pursue to our full capability. And I am glad to say we achieved this mission.
Comments, questions, or suggestions?
For field school related issues please contact: mark.staniforth@flinders.edu.au
For website related issues please contact:
mua@keimaps.com
Return to Project Journal home page.