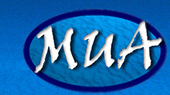 East Carolina University 2007 Field School
in Underwater Archaeology
8 June 2007
By Dr. Larry Babits
We said goodbye to North Creek and the Kickin' Bitch site today. After ten days slogging through thigh deep mud, measuring with fingers, forearms and little tapes we could hardly read, some real data came together. Up until two or three days ago, I didn't think we would be able to finish the site before moving on. Wednesday night's field drawing match-up session told me we had a great deal accomplished but there were major gaps. All day Thursday we worked to fill in the blank spaces on the site plan and that night, it all seemed to come together. At least there were only three or four things we needed to do on the last day.
But the story really began back in 1994 when the Maritime Program had a grant to conduct a shoreline survey and we first went to North Creek. That was when we met Glen and Frankie Credle and found the site we just excavated. Glen was a library on the move in terms of his local knowledge. Frankie was incredibly encouraging and always wanted to know what we were finding. Glen's family has owned land on North Creek since 1704 and he was intensely interested in the area's history. He completed a survey of all local graveyards in the 70's and 80's, recording their information.
As time went on, we learned that all the North Creek sites (some 70+ vessels) were in danger because of impending development. This summer was crunch time. We had to record some of these sites and inspect other ones. Many of those we found in 1994 and 1995 were gone, either pulled up and burned, or simply vanished in the mud. When we went out to the Kickin' Bitch site, the same two posts were still just above the water, but the mud was a lot deeper.
While we excavated and recorded, we also obtained a wealth of information from Glen. He told us the boat was originally owned by a man named Wilson who sold it to Harold Ormond. Harold's wife was Helen Credle and he named the one mast bateau after her. According to local lore, a bunch of the boys went out early one Sunday morning, possibly after a night of partying. They were headed down river to meet with their lady friends. The boat caught some odd waves and pitched at least one of men overboard. While officially named Helen C, it became known as the "Kickin' Bitch" because she threw people overboard.
From other sources, we know that Pamlico Beach, less than five miles away, was the site where most of the North Carolina one mast bateaux were built. Glen was able to rattle off the names of three boat builders – Braddy, Hopkins and Hooten – then added that "Mr. Moore ran a boat repair and painting" operation right across Garret Gut from where we started out each morning. It may well be that our vessel lies at rest only a few miles from where she was built.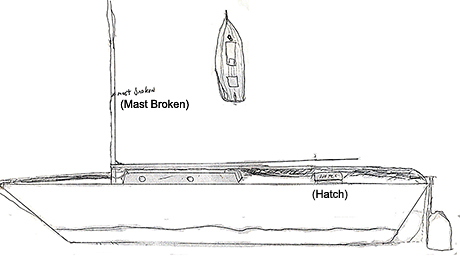 Drawing of the Helen C (a.k.a. the Kickin' Bitch) as it appeared in 1959 by Glen Credle. (large view)
Structurally, the Helen C bears a striking resemblance to a skipjack (a Chesapeake Bay, one mast bateau) that was described by nautical historians in Maryland. Glen's drawing and the plans of the Messenger agree in many respects. That vessel represents the southern border of the Cheaspeake Bay boat-building tradition and that makes it important for research purposes as well as serving as a memory jogger for local tales about local folk.
Glen knew the Helen C personally because it was abandoned and awash when he grew up on North Creek. He used to fish from it. He drew his impressions of what the boat looked like. Today, when we closed down the site, Glen went with us again and went into the water with us, wading through the mud and groping through the dark water. It was the first time he'd been on the boat since the summer and fall of 1959 because it had fallen apart and into the water the following winter.
As we finished up, it was a bittersweet moment. We probably won't be back on that site. There are others demanding our attention nearby. Dave went to check out a Chesapeake-built buy boat that was once sail powered but was converted to engine power when it was brought down to North Creek. It might hold clues to understand the Washington Park vessel because both were converted from sail to engine power.
It was with an air of pride that I saw our students clearing up the site and then pulling the boats out of the water and cleaning them. What had seemed chaotic two weeks earlier was now pretty much routine. People were handling lines, dropping fenders, and carrying off equipment, largely without being told. The drawings they produced showed how far they had come as maritime archaeologists, but the work they did together showed how well they had come to mesh as an effective data collecting team.

The final draft map of the Kickin' Bitch site. (large view)
Please feel free to contact us at mua@keimaps.com with any comments, questions, or suggestions during the weeks to come.
Return to Project Journal home page.