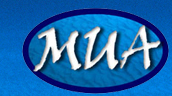 Project Summary
In 1978, Keith Muckelroy established much of the theory surrounding the study of scattered shipwreck sites, a theoretical approach which has proved to be broadly applicable to all maritime archaeological sites. This project seeks to utilise this body of theory while also investigating alternate methodologies and theoretical perspectives useful for the re-investigation of known shipwreck sites. The key output of this project has been the development of the "toolbox methodology" approach to the study of previously investigated maritime sites, in which a range of tools and techniques have coalesced into a unified method of analysis. A secondary output of the project has been the development of a comprehensive glossary of terms relevant to all aspects of analysis within the toolbox methodology. It is hoped that the toolbox methodology, focusing on the dynamic relationship between site formation processes, post-depositional processes, artefact patterning and mapping, and in-depth site analysis and re-interpretation, will provide more significant data for these particularly disturbed, scattered and dynamic sites. There is potential that increasing the amount of available data for a given site will have a correlate increase in the amount of interpretive substance for such a site. If such can be proven, the research will further Muckelroy's contention that even the most scattered sites can provide important data sets for a greater understanding of parent cultures. It would also further develop site formation theory as a valuable endeavour for all maritime sites, particularly those previously considered unworthy of detailed analysis based on generalized characterisations as disturbed, scattered and discontinuous.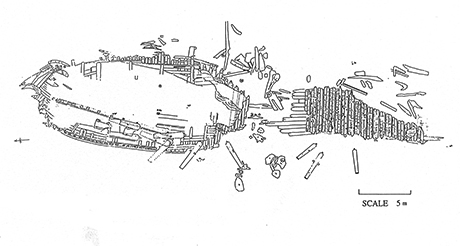 1990 Site Plan of the Warship Hazardous - Compliments of the Hazardous Project Team and Site Archive. Currently being integrated into Site Recorder 4 in conjunction with artefact locations and tracer brick movements. Large View
The toolbox methodology has been developed from the test bed of re-investigation of known shipwreck sites. As such, its first level of analysis is the generation of comprehensive site biographies. These biographies examine and assess, as much as possible with available data, known site history, previous archaeological investigations, and known environmental data. The second level of this analysis is to generate computer-based artefact distribution maps, where possible, in order to analyze artefact distribution and location patterning in relation to the site biographies. In some cases, these are the first instances of final artefact distribution maps generated for the study sites. For the purpose of mapping, this project will use Site Recorder 4 software (Site Recorder 4 is a purpose-designed maritime Geographic Information System software package http://www.3hconsulting.com/).
Primary placement of tracer bricks at permanent survey point on the Warship Hazardous. These bricks were first placed in 2005 and have since scattered widely across the site.
The final level of the project is a limited tracer study on two of the six study sites with the intent of gaining a more profound understanding of current environmental processes at work and the impact these processes may be having on surface artefacts. This will include the primary tracer study on the warship Hazardous and a secondary tracer study conducted on the site of the late medieval wrecks in St. Peter Port Harbour, Guernsey. This level of the project involved the placement of tracer "artefacts" in the form of brightly painted bricks across these sites in two different configurations and documentation of their subsequent movement over approximately three field seasons (where possible due to site condition) to gain additional knowledge of the current site formation processes acting upon these sites. It is understood that an applied study of this nature represents only a snapshot of site formation processes active at these sites in the present time. The data recovered as a result of the study may not be representative of site conditions over the past several centuries. However, it is hoped that the trends noted in the movement of tracer artefacts can be used to model movement of in situ artefacts presently at these sites and provide a productive foundation for research on artefact patterning, site management and conservation techniques for non-coherent sites in more diverse environmental settings and within a wider geographic range. It is further proposed that this broad foundation of newly generated and synthesized data will greatly enhance the interpretive value of these sites within their cultural and historical contexts.
Data from the tracer studies will then be collated with the previously generated artefact distribution maps into Site Recorder 4, where possible, and with the site biographies. It is the contention of the author that such detailed re-examination of established sites may lead to more comprehensive methodologies for examining newly identified maritime sites, including, but not restricted to, shipwreck sites. Further project entries will discuss the history and archaeological work done to date on the six survey sites, as well as preliminary results of this study.
Tracer Study Post Part 1 | Tracer Study Post Part 2
Return to In The Field home page.
---
References
Fenwick, V. & A. Gale 1998. Historic Shipwrecks – Discovered, Protected and Investigated. Stroud, UK: Tempus Books.
Owen, N. C. 1988. HMS Hazardous wrecked 1706. Pre-disturbance survey report 1987. International Journal of Nautical Archaeology, 17.4: 285-293.
Owen, N. C. 1989. Unpublished annual site report. Hazardous. Site Archive.
Owen, N. C. 1991. Hazardous 1990-1991 interim report. International Journal of Nautical Archaeology, 20.4: 325-334.
Owen, N.C. 1993 Unpublished annual site report. Hazardous. Site Archive.
Satchell, Julie. 2002. Personal Communication with Project Archaeologist Julie Satchell, Hampshire and Wight Trust for Maritime Archaeology.
Sparks, B., G. Momber, J. Satchell 2001. A Hazardous Wreck. A Decade of Diving, Delving and Disseminating. Southampton: Hampshire & Wight Trust for Maritime Archaeology.
This research was conducted with assistance from:

The Hazardous Project Team

Iain Grant, licensee of the Hazardous shipwreck site, divers from the The Hazardous Project Team and divers from the 308 Sub-Aqua Club.
Hampshire and Wight Trust for Maritime Archaeology: http://www.hwtma.org.uk/
English Heritage Maritime: http://www.english-heritage.org.uk/server/show/nav.1276
Comments, suggestions, or questions can be directed to sarahelizabethholland@gmail.com