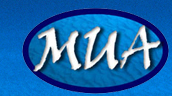 Stabilizing the Wreck with Terram

12 October 2010
By Jessica Berry
Diver covering the bowcastle in sandbags. Large View (photograph courtesy of Bournemouth University).
Much time has passed since our last log. More than anything this has to do with the vagaries of the British weather. The Swash Channel wreck off Poole is particularly vulnerable to southerly and south-westerly winds. Anything over a Force 5 generally keeps us in harbour.
To protect the site over the winter months the last three days were spent covering the stern section in Terram, a geotextile which has been proved to effectively protect and stabilize timber underwater. Within a short time marine growth will colonize the textile without penetrating it. The synthetic mesh mat has been used on several UK sites from the Mary Rose to HMS Colossus, a 74-gun warship lost in 1798 off the Isle of Wight. The practicalities of laying the stuff are something else. Rolls come in 6 by 50 metre lengths so it's advisable to know exactly how much you need for each section and having it already chopped for the boat. Then try sinking it – you will need a significant amount of weight as the stuff floats like a ghostly, stiff shroud. You will also need at least four divers to lay it, two rolling it back metre by metre, and at least two pinning it down with sandbags to ensure that the minimum amount of air gets trapped beneath it. Extra divers can usefully be deployed helping to lay the sandbags and ensuring the matting is being unfurled in the right direction. (It tends to go askew.) Unfortunately we have no pictures of this as visibility was reduced to under a metre.
The wreck's stern and 8 metre rudder and carving are now protected. The plan is to return for a final visit this year to raise the bowcastle timbers which are currently protected by sandbags. They will then be transferred immediately to a conservation facility.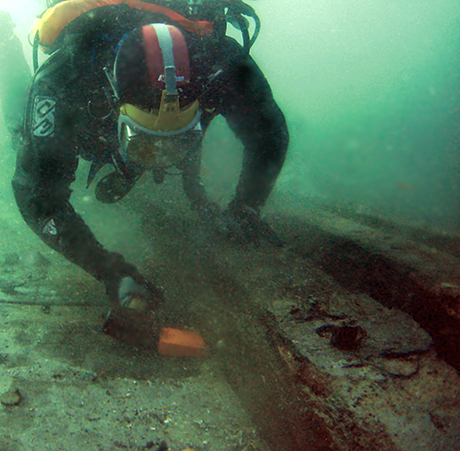 Taking apart the bowcastle (photograph courtesy of Bournemouth University).
Return to MUA Project Journals home page.