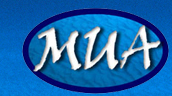 Maritime Archaeological and Historical Society:
Pamunkey River Project Part 2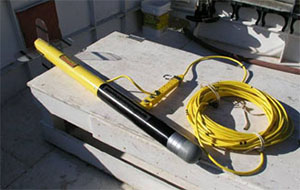 Side scan sonar towfish onboard Roper.
The Maritime Archaeological and Historical Society (MAHS), in conjunction with Dr. John Seidel of Washington College, conducted a sidescan survey of the Pamunkey River from 3-5 December 2004. Dr. Seidel and MAHS members Jeremy Weirich and Kelly Elliot analyzed the sidescan data and evaluated the sidescan contacts. During this survey, several remains of possible vessels were observed along the shore and noted for further investigation.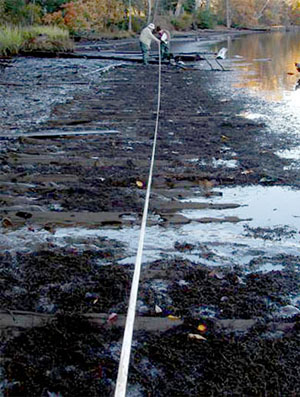 Measuring length of possible canal boat or barge remains adjacent to Hull #1. It has been designated Hull #2.
MAHS conducted several expeditions/field schools in 2005 and 2006 to further investigate and inventory any wrecks found. The expeditions consisted of alongshore reconnaissance to record artifacts and GPS positioning, as well as scuba searches for submerged wrecks in the river channel. In March 2006, MAHS conducted a thermal imaging survey in specific areas on the riverbank in an attempt to locate gravesite remains noted from the historical record.
At least four hulls were discovered during the 2005 and 2006 investigations. Two were likely canalboats, and were located side by side along the shore. This is reminiscent of wharves that Union Army Quartermasters created by forcing canal boats ashore at high tide and bridging over them. The expeditions also discovered two keeled vessels, with floor timbers and some planking still remaining.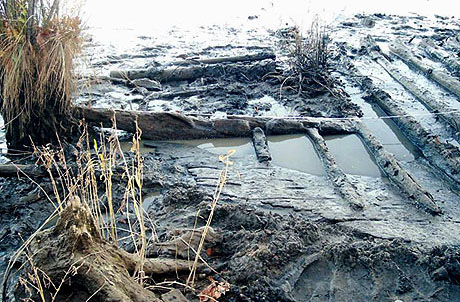 Hull #1. Believed to be possible bow section of a canal boat. Note the transverse framing, fore and aft hull planking and lack of full length keelson. The presence of a keel has not been determined.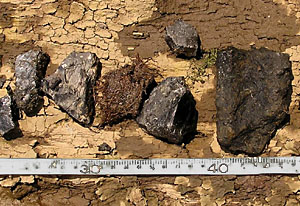 Possible coal and artillery shell fragments. Photo courtesy of Bill Utley
Artifacts found on or near the wreck sites included lumps of coal, an artillery shell fragment, a length of rope and a single live cartridge. The live cartridge is believed to be a 5656 Spencer round, which would date it and the wreck to the 1864 period. In keeping with the policy of not removing artifacts from a site, after photographing them, investigators reburied the artifacts in their original location.
MAHS will continue to investigate in an ongoing effort to further understand the maritime heritage of the Pamunkey region.
For more information you can visit the MAHS website at:
http://www.mahsnet.org
Return to In The Field home page.