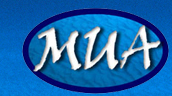 Maritime Archaeological and Historical Society:
Pamunkey River Project
The Maritime Archaeological and Historical Society (MAHS) has teamed with archaeologist Bruce G. Terrell to survey historic shipwreck sites in Virginia's Pamunkey River. This is a volunteer, not-for-profit project relying on donated resources. MAHS members provide all research labor, field labor, dive gear and boats. This report describes the historical background of the project and the Civil War events comprising the initial focus of the project.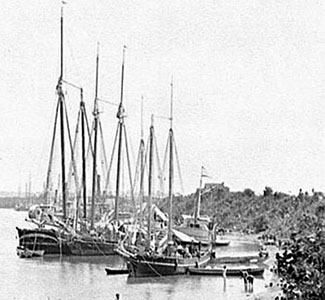 Supply Vessels looking downriver, 1862.
Named for the Indian tribe that lived along its shores, the Pamunkey River, a tributary of the York River, was a major supply artery for the Union Army during the Civil War. The historical records indicate that the many vessels sunk during the war years represent a unique collection of historic ship architecture. These range from Chesapeake Bay and other types of coastal schooners to canal boats from various Northeastern canal systems, sloop-rigged boats, and both propeller and side-wheel steam vessels.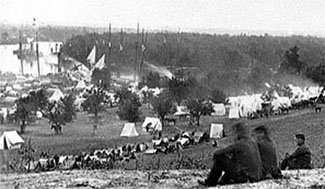 Union encampment at Cumberland Landing.
U.S. Army Quartermaster Department vessels, including canal boats and schooners, landed at several points along the riverbank to discharge cargo and troops supporting the Union movement. The canal boat was the adaptable do-all craft. Long and sturdy with a shallow draft, they were pressed into duty as barges, freighters and rail car transports. They were also used as portable wharves. Quartermaster General Stewart Van Vliet reported that, "Extensive wharves were at once constructed by throwing our barges and canal-boats ashore at high water and bridging them over (ORA, vol. XI, p159)."
The river became a battleground during the Civil War. In early April 1862, the Union army under General George McClellan landed at Fort Monroe to begin the "Peninsula Campaign" against Richmond. After the occupation of Yorktown by Union forces on May 4, Confederate forces retreated up the York to Williamsburg and beyond. Watercraft used to supply Yorktown were taken up the Pamunkey. Union forces continued to advance up the peninsula and rivers, conquering point after point.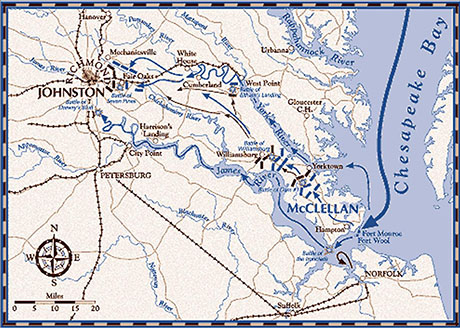 General McClellan's 1862 Peninsula Campaign.
The archaeological sites are now threatened by looting, development and public works. This survey project allows the study of little-documented antebellum commercial vessels, the material culture of the period and region, and the process and actions of the U. S. Army Quartermaster Corps in providing waterborne logistic support to the Union Army.
Our future updates will discuss our survey methodologies and field schools conducted on these sites.
For more information you can visit the MAHS website at:
http://www.mahsnet.org
Return to In The Field home page.