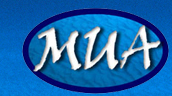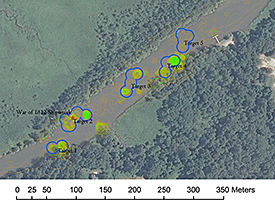 Gradiometer targets map (See large view).
Findings
Marine Magnetics generously post-processed the data we collected using Oasis Montaj software as this software is not available for loan or rental and its high cost prevented us from purchasing our own license. Using Oasis Montaj, extraneous data were clipped to enable the modeling of the analytical signal. We used the post-processed data to produce various models of the analytical signal using Surfer mapping software and we plotted the analytical signal and anomaly locations using ArcGIS. Review of those data enabled us to prioritize targets with the highest potentials of representing buried shipwrecks. Attributes considered during our review included the calculated masses of individual anomalies and the density and spatial extent anomaly clusters. Five target clusters were identified within the study area; of these, Targets 2, 3 and 5 appear to have the highest probability of representing buried flotilla shipwrecks based on the mass and distribution of the anomalies that compose them. The relatively similar burial depth of those anomalies, 1.0 to 3.0 m, also corresponds fairly well with the observed burial depth of the known War of 1812 shipwreck that is represented by Target 2.
Considerations
Search area size vs. lane spacing - The multi-sensor gradiometer is not a search tool, it is a refining tool. Because of the lane spacing must be close, it is not practical in terms of time and money for large areas.
Water depth - Sufficient depth of water is needed to ensure all sensors may be used without dragging or entanglement in bottom debris, but the GPS must remain above the surface.
Deployment methods and deck space - Because of its size and weight, the gradiometer can occupy a significant amount of deck space and a winch/davit/crane system is needed for its safe deployment and recovery. If possible, or necessary due to constraints imposed by vessel size, it can be walked into the water by a couple of people.
Sea Conditions - Wind and waves can hamper deployment/recovery significantly. Towing the apparatus has limitations comparable to most towed arrays of equipment.
Obstructions vs. cable out - The gradiometer needs to be towed at a substantial distance behind the vessel. In the case of our 30 foot survey vessel, the distance was 100 feet; more than three times the length of the vessel. With this much cable deployed, holding a course and maneuvering around obstacles became extremely difficult. In our case the survey area overlapped an area peppered with crab pot buoys and it was impossible not to snag these.
Software compatibility - The gradiometer runs on specific software, which is costly and not available for lease with the equipment. Therefore, a project needs to budget to purchase the software or to build data processing into the lease agreement and work with Marine Magnetics to have it processed. The latter makes more sense unless one is planning to purchase the equipment or to lease it frequently.
Conclusions
The Marine Magnetics SeaQuest 3-Axis gradiometer generally is more suitable for high resolution mapping of known shipwrecks than for searching large areas for undocumented submerged cultural resources.
In general, we found the gradiometer easy to assemble and operate, but we had trouble deploying and retrieving it. It is best deployed by two or more people walking it into the water and towing it to the survey area if a winch and adequate deck space are not available.
It provides the ability to precisely ascertain the locations and burial depths of significant ferro-metallic objects that can aid in the delineation of buried shipwrecks.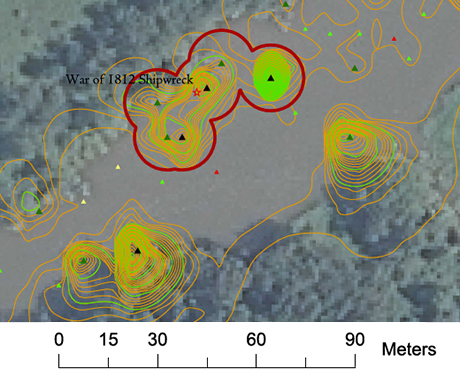 Targets near known War of 1812 shipwreck in the Patuxent River.
Comments, suggestions, and questions can be directed to Dr. Susan Langley
Return to In The Field home page.