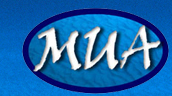 Institute of Maritime History:
2009 Project Update
For the Maryland Historical Trust (MHT)
During fiscal year 2009, IMH has continued its underwater reconnaissance of the lower Potomac River and its tributaries. Most project expenses are covered by a non-capital grant from the state. Finds and site assessments are reported only to MHT.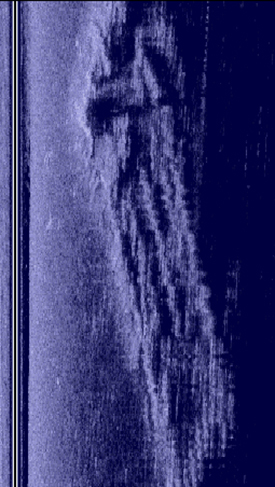 Unidentified wooden wreck.
The search area comprises 47.3 square nautical miles (30,260 acres), with special focus on St. Mary's City, the first permanent English settlement in Maryland, and the waters off St. George's Island, where Loyalist forces under Lord Dunmore, the last royal governor of Virginia, burned between eight and 23 of their own vessels in the summer of 1776.
The project is approximately 80% complete. One previously unknown wreck has been found so far. Five other wrecks were confirmed and supplementally assessed. Two of them, an unidentified steel hull and fairly large wooden vessel, are being mapped in detail. The wooden vessel is believed to a commercial sailing vessel abandoned in the early 20th century.
During fiscal year 2007 IMH conducted a similar but larger reconnaissance under another MHT grant, covering 83 square nautical miles (53,000 acres), an area 35% larger than Washington, D.C. Four unknown wrecks and three other cultural objects were found and reported to MHT.
To supplement the 2009 project, at its own expense IMH retained Azulmar Research LLC to search for the Dunmore vessels by magnetometer and high-resolution sidescan sonar. Several anomalies were found and are being investigated by volunteer divers.

Sidescan sonar image of one of anomalies off St. George's Island.
IMH is also conducting a search for two warships (Cato, belonging to the Maryland State Navy, and Hawke, a privateer) that were chased ashore and burned in 1781 by H.B.M. frigate Iris (ex- U.S.S. Hancock), and is continuing work on its database and bibliography of submerged sites.
Several IMH members also helped crew MHT's survey vessel for the state's survey of the coastal waters off Assateague and Fenwick Islands.
IMH routinely services the U-1105 Historic Shipwreck Preserve for MHT and the Naval History and Heritage Command by deploying a mooring buoy in the spring, recovering the buoy for the winter, clearing fishing lines off the site for the safety of visiting divers, and monitoring site conditions. IMH is also building two scale models of the U-1105, one as she was and one as she is now, to present to the Piney Point Lighthouse Museum on the 60th anniversary of her being sunk in a post-war weapon test.
For the Delaware Division of Historical and Cultural Affairs (DHCA)
In 2007, IMH and the Maritime Chapter of Archaeological Society of Delaware (ASD) scanned most of Breakwater Harbor at Lewes, DE. Sixteen anomalies in the harbor and six other wrecks in the bay were found and are under further investigation by ASDMC. In September and October of 2009 the two societies will continue work on those sites, finish scanning the remainder of Breakwater Harbor, start scanning the Harbor of Refuge and Hen & Chicken Shoal off Cape Henlopen, and participate in Coast Day and Boast the Coast, public maritime heritage celebrations by the University of Delaware and the City of Lewes.
For U.S. Marine Corps Base, Quantico, VA
IMH has located several wrecks off of the U.S. Marine Corps Base in Quantico, VA that will be mapped during the autumn of 2009 when heavy hydrilla growth subsides. Two of the sites are believed to be the Confederate gunboat City of Richmond (ex- SS George Page) and the schooner Mary Washington, which were sunk in 1861 and 1862.
For the Massachusetts Board of Underwater Archaeological Resources (MBUAR)
IMH is databasing and photographing artifacts recovered from the harbor at Woods Hole, and reconnoitering the harbor by sidescan and divers.
Training and Assests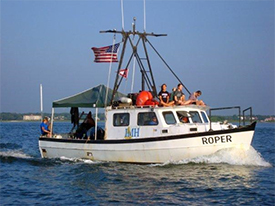 Roper during the LAMP field school.
Roper is the principal workboat for IMH's Mid-Atlantic Chapter. She is a 36-foot steel shrimper, built in 1990. She carries sidescan and forward-looking sonar, redundant VHF and DGPS units, 18 tank racks, a large work deck, a 12-foot skiff, three-point mooring, a Maptech electronic charting system, and a navigational computer and autopilot that were custom-built by IMH member Kirk Pierce.
In June and July, IMH loaned Roper to the Lighthouse Archaeological Maritime Program (LAMP) at the St. Augustine Lighthouse & Museum, for use as a dive boat in a field school held in collaboration with Florida State University, Plymouth State University, Syracuse University, and Flinders University of Western Australia, and for further work on the site after the school was completed.
Roper returned to the Mid-Atlantic in August to resume work for MHT and DHCA, and for a four-day field school for volunteer divers in the Potomac River.
Nine students enrolled in the class, which covered low-visibility diving, naval architecture and vessel construction, artifact recognition, remote sensing techniques, and non-intrusive mapping using perpendicular offsets, trilateration, and the Direct Survey Method.
The course included one day of sidescan sonar search and two days of hands-on mapping on three different wrecksites, dating from the 19th and 20th centuries.
For more information you can view our other posts on this site listed on the In The Field home page or you can visit the IMH website at: http://www.maritimehistory.org
I.M.H., Box 29, Kensington, MD 20895
301-949-7545
email: David.Howe@MaritimeHistory.org
Return to In The Field home page.