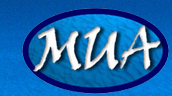 Going Home

5 October 2010
By Matt Carter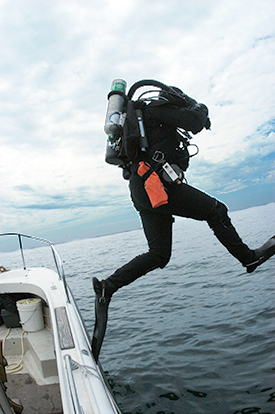 Striding into Lake Michigan (photograph courtesy of Tamara Thomsen).
As my time in Wisconsin interning with the Wisconsin Historical Society ends and I return to New Zealand, thesis writing, and school, I'm energized with ideas and techniques to take into my future as an underwater archaeologist in the South Pacific.
Much of my research here in Wisconsin has centered on historic archaeology and comparative ship construction. My understanding of ship construction techniques has vastly improved with hands-on experience over what is taught in a classroom. Like learning a foreign language by immersion, I feel I am better able to make observations and identify features. I intend to put this skill to good use in the study of the many shipwrecks to be found around New Zealand.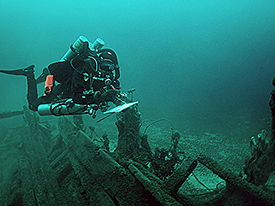 The author recording construction details. Large View (photograph courtesy of Tamara Thomsen).
Coming into this internship I only had a basic understanding of technical diving, mixed gases, and rebreathers. After more than 90 hours logged underwater on my KISS Classic rebreather this summer, I can now see how useful a tool this is and one which I intend to use in the future. From this experience, I can now see how important it is as a maritime archaeologist to be at the forefront of shipwreck exploration, discovery and research utilizing the current tools and techniques in diving technology.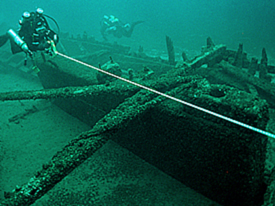 Diver measuring the Island City's centerboard trunk. Large View (photograph courtesy of Tamara Thomsen).
Most of the projects conducted over my internship have involved collaboration with avid divers as volunteers in conducting research. It has involved a training process to teach the volunteers techniques for recording historic shipwrecks, but also in the use of equipment such as rebreathers, cameras, video and DPV's to aid in the process. The incorporation of volunteers with mixed backgrounds and differing skills has been hugely successful in Wisconsin and the interaction has increased the enthusiasm that is brought with them as well as the preservation ethic that is spread contagiously by those that offer their assistance.
Return to MUA Project Journals home page.