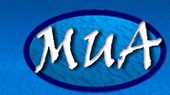 Flinders University 2007 Field School
in Underwater Archaeology
5 February 2007
By Jennifer McKinnon
Project Introduction
The 2007 Flinders Maritime Archaeology Field School will be held at Victor Harbor on the Fleurieu Peninsula in South Australia. Victor Harbor is situated 90 kilometers south of Adelaide on the southern tip of the Fleurieu Peninsula in Encounter Bay. This field school will focus on the maritime heritage of the Fleurieu Peninsula including Victor Harbor and Port Elliot. Victor Harbor and the surrounding area has been the center of early Australian and South Australian history. Encounter Bay received its name on 8 April 1802 when English explorer Matthew Flinders sailing in Investigator met French explorer Nicolas Baudin in Geographe. Both explorers were charting the coastline of South Australia when they met and exchanged notes in what became known as "Encounter Bay."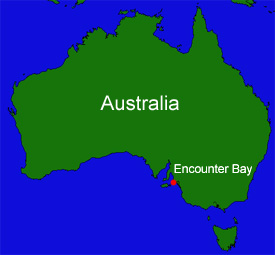 Map showing location of Encounter Bay in southern Australia.
During the following three decades, Encounter Bay remained relatively quiet with the occasional visit from sealers and whalers looking for productive hunting ground. Whaling for the production of whale oil was one of Australia's first and most important industries, beginning in Sydney in the 1790s. Sealers and whalers had the first recorded European contact with Aboriginal Peoples of the Fleurieu Peninsula from Encounter Bay to the Coorong. Europeans might have come into contact with the Ramindjeri of Encounter Bay, one of the 18 clans of the great Ngarrindjeri confraternity.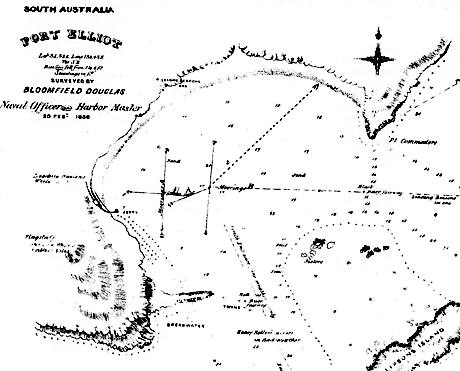 1856 Map of Port Elliot surveyed by Bloomfield Douglas.
In 1830, Charles Sturt traversed the nearby Murray River in an epic journey from present day New South Wales to the mouth of the river (present day Goolwa). He described the river as having great potential for the trade and transport of agricultural and pastoral cargos. Seven years later, the South Australian Company set up a whaling station, becoming the first permanent European settlement at Rosetta Harbor. This station was followed by another whaling station at present day Victor Harbor. In 1837, the South Australian Company was dealt a blow when two of its whaling vessels South Australian and Solway wrecked in storms near Rosetta Head. The 1840s brought another whaling station to the vicinity just east of Cape Jervis which operated until 1855.
Once the Murray River was opened for trade, the township of Port Elliot was established in 1852. Middleton, the town between Goolwa (the mouth of the Murray) and Port Elliot was founded at this time as well. Unfortunately, the mouth of the Murray was a narrow, shallow, meandering opening which prohibited the navigation of large vessels. Port Elliot was chosen to be used as a bypass for the outlet of the River Murray trade. Thus, the first public railway on the Australian mainland was opened in 1854. This railway linked Goolwa with Port Elliot where ships would anchor and load the cargo for transport to larger ports. In conjunction with the construction of the railroad in 1853, the first steamers, Lady Augusta and Mary Ann, plied the waters of the Murray. By 1857 there were fifteen steamers operating on the River Murray.
Port Elliot proved to be a disastrous choice for a port as its orientation along the coastline made it susceptible to high winds and waves. Efforts were made to improve the port by building a jetty, a breakwater and setting in permanent moorings. However, Port Elliot's reputation was permanently marred when within twelve years of its establishment seven vessels had wrecked using its harbor including Emu, Flying Fish (Australian built), Commodore, Harry (Australian built), Josephine L'Oizeau, Lapwing, and Athol. (See the Heritage South Australia pamphlet on Port Elliot for further details). The opening of the railway extension into Victor Harbor in 1864 signaled the end for Port Elliot, as Victor Harbor became the main port of call for coastal traders.
Field School Goals
Very little maritime archaeology has been conducted in this geographic area with the exception of a few large-scale shipwreck surveys and brief investigations at Pt. Elliot. Thus, this field school will provide students with an opportunity to conduct archaeological research and incorporate it into future masters theses. Students may investigate a number of maritime sites on land and underwater including:
Granite Island historic causeway and baths
Historic shipwrecks located in Horseshoe Bay at Port Elliot
Remote sensing surveys in search of Solway and South Australian, two vessels associated with early whaling activities
An early twentieth century shipwreck salvage camp associated with the wrecking of MV Victoria
The jetty at Port Elliot
Two jetties, fishers' caves and Star of Greece at Port Willunga
Showboat on Hindmarsh Island
Showboat on Hindmarsh Island.
About the Web Journal
The idea for participating in MUA's web journal at Flinders University struck me as a good idea while I surfed the East Carolina University's online field school journal. While reading, I initially thought "we can do this" and then I thought "we should do this." What MUA's website is doing is a great service to the industry and to the general public - simply put - MUA is getting the message out. It provides archaeologists with a space to write about their ongoing projects and research in a way that appeals to both their colleagues and the public. It also provides a way for archaeologists to be more creative in the ways that they present their research and interact with the internet public. This is something our discipline lacks and I'm happy to see MUA fill the gap.
The Flinders University online field school journal is an opportunity for maritime archaeology students to think about and reflect on their learning experiences in the field. Field school is a teamwork effort which can be incredibly tough and challenging but rewarding and fun at the same time. During the field school students will experience what skills it takes to work in the field as a maritime archaeologist. This online journal is a way for them to summarize and reflect on those activities, but it is also a way for them to communicate those experiences to a wider audience including their peers, families and the general public. The students will have the freedom to write about any of their experiences, thoughts, reflections, etc with the idea that they have an audience which is made up of all different people, some of whom may be maritime archaeologists and many who won't be. I hope that this online journal is as much fun and as rewarding as it was for the students and staff of ECU. Many thanks to the MUA for providing us with the space and opportunity to participate in this exciting program.
Please feel free to contact us at mua@keimaps.com with any comments, questions, or suggestions during the weeks to come.
Return to Project Journal home page.